As businesses and companies look at remote work as the new normal, they also have to find new ways to stay organized. Fortunately, there are already excellent tools like Trello to help out. With tens of millions of users, Trello has grown into a critical collaboration tool for in-person and remote teams everywhere. Let's take a deeper look at how Trello can be used to organize remote teams.
What Is Trello?
Trello is best defined as a collaboration tool that organizes projects into boards. Think of a whiteboard with sticky notes that include photos, attachments, and documents for you or your team. Now imagine that this whiteboard can be viewed anywhere.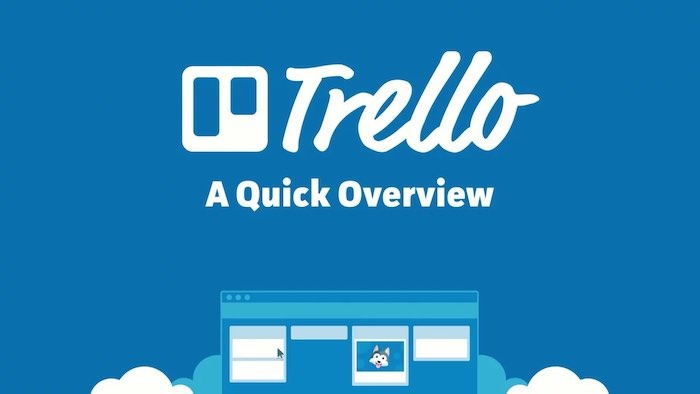 Trello can be broken down into three categories: Boards, Lists and Cards.
A board is a blank canvas where teams can organize a project, meeting, process, etc.
Lists are used to break down a project, such as a to-do list or finished tasks.
Cards are used to form the lists and can be as detailed as you like. Add notes, team assignments, uploads, due dates, etc.
The best part about Trello is that you can organize in a way that works best for your remote team. Available on the Web, Android, iOS, Mac and Windows, there are also browser extensions for Chrome, Firefox, Safari, etc. Best of all, up to 10 boards are free for your team. You'll have to pay an annual fee for unlimited boards, priority support and up to 250MB per file attachment.
As Trello teams become remote, each will have its own rules, so the tips below should be tweaked based on your needs. Ultimately, each board should be set up in a way that helps your team communicate better while preserving company culture.
Mission Control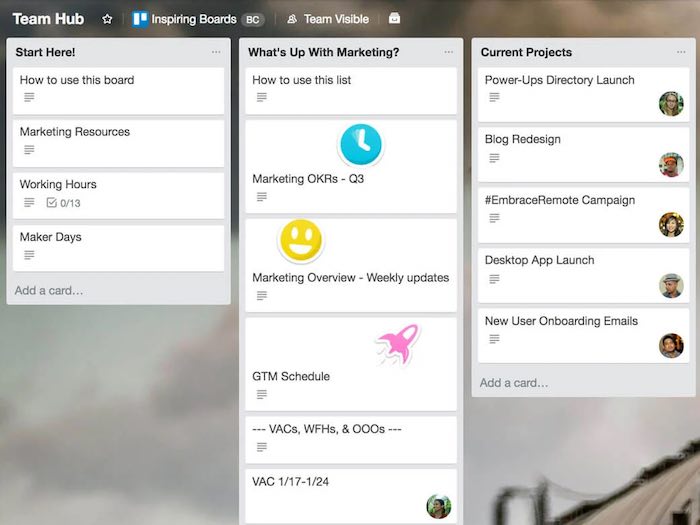 Start by setting up a board that is going to act as Mission Control for your team. This works by creating lists of cards that cover all the essentials from time schedules, contact info, resources, FAQ, links to chat channels inside apps, etc. Add a list for updates or announcements so everyone on the Trello team can see them. It's up to your team to decide what to put here, but it should be a catch-all for everything.
Weekly Meeting Board
Next, create a Weekly Meeting board that will help your team save time. On this board, your team will include a structured agenda for each weekly (or daily or monthly) meeting so everything and everyone stays on track. Inside this board, create static lists for "This Week" so people can add cards with topics to be discussed. Also create a list for the actual week so the cards can be archived for future reference. Inside each dated list, add cards for things like who is leading the meeting, team updates, takeaways, celebrations, etc.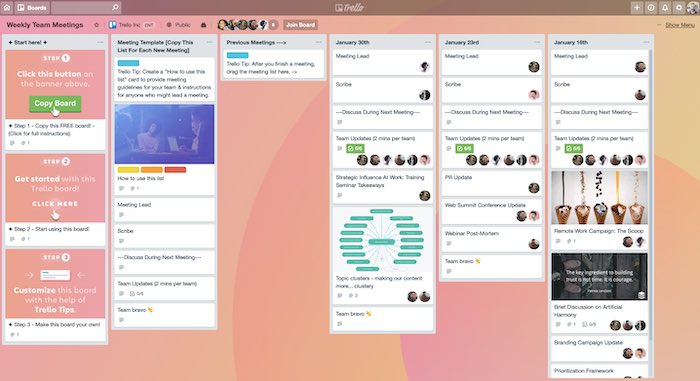 Once the meeting is over, archive the list after a few days and create a new list with the next date and time of the next meeting.
Brainstorming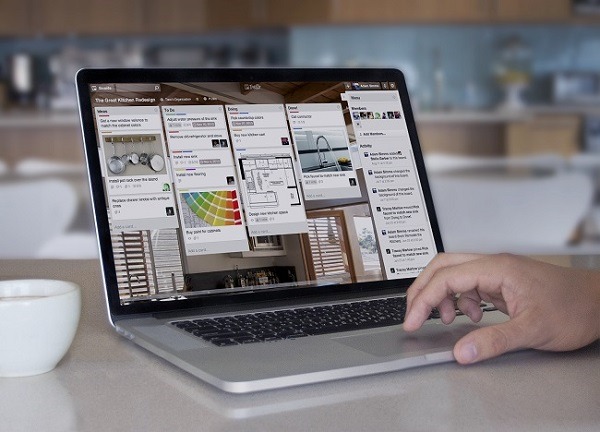 This next board is really where the power of Trello comes out. A virtual "Brainstorming" whiteboard can be created, where your team should feel comfortable adding and sharing ideas with the whole team. Lists should be created for each new idea, and anyone who has a thought, idea or solution can add their own card. Depending on your industry, a brainstorming board may work better for some than others but can be successful for a company with remote employees.
Project Management
Project Management Boards reveal more of the deepest parts of remote team success – the beating heart of your Trello work. Lists like To-Do, Pending, Blocked, and Done will organize every critical step or completed milestone. Each card within each list should have all of the necessary documents or file attachments as well as links necessary.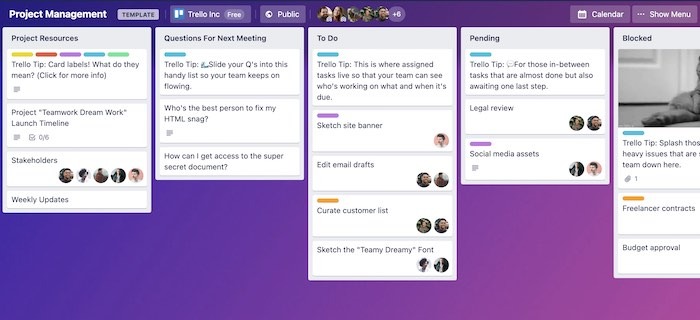 It's also best to have a board all the way to the left for Project Resources that can ensure everyone stays on time and on track since they are working remotely. Is there a specific note or adjusted timetable for this project? Add it here. Are there external resources that will be useful? Add them to the far left column as well. Every major project should have its own project management board so that it is organized without any overlap.
Team Health Board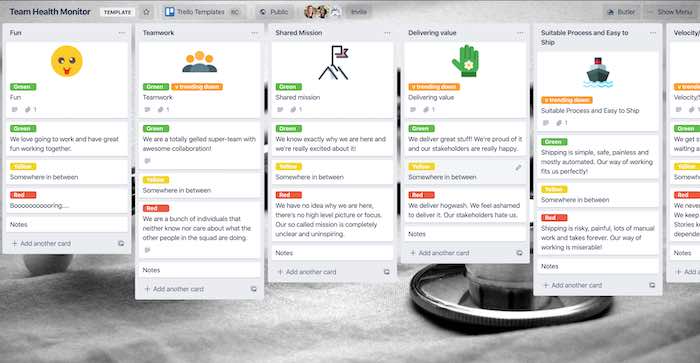 Adding a Team Health board will be hugely important to ensure everyone is performing well and in a healthy place, regardless of location. Remote work has plenty of benefits but also removes some of the team-building that only comes with in-person meetings. It's important to have this board as part of your Trello organization strategy so that the team is kept up to date. This board can also act as something of a break room. Set up boards where remote team members can add a board of jokes, stories, photos from travels, etc. so that they feel comfortable to blow off a little steam if they need to.
Catch-All
Another sound idea for Trello remote teams is a board that organizes all of your assets. This board will be more of a reference or catch-all than something that will be used daily. Companies working online have a lot of assets that can include content, documents, links, contacts, etc. This board may not have many different cards, or it may have dozens. Either way, it's an incredibly useful board that you never know you need until you don't have it.
Conclusion
There is no question that Trello's flexible nature ensures it can be set up and organized a million different ways. These six Trello tips are a great way to get started setting up a remote team. By its very nature, Trello was never meant to have a rigid structure, so feel free to bend, twist and shake it so it fits the needs of your team. But if it still doesn't feel right, check out the best planner apps to organize your work and life.
Image Credit: Trello