When it comes to productivity, I want an app that's simple, engaging, and most importantly, effective. That's why I was excited for this Do It Now review. This app adds an RPG element to your standard to-do list but without making it overly complicated. During several weeks of testing, I had a chance to explore both the free and premium versions to see how the features compared.
Do It Now Main Features
Do It Now is an Android productivity app designed to make tracking your daily, weekly, and monthly tasks a little less boring. It's designed to add a gaming aspect, helping you gamify your life.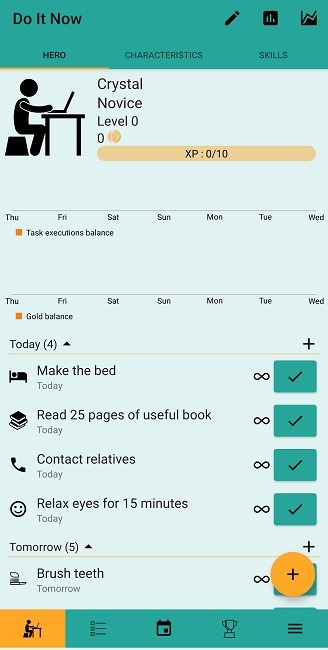 While it looks simple from the start, I was pleasantly surprised to see a wide variety of features, even in the free version. Instead of just having you list your to-dos, you also assign each to-do different skills or aspects. For instance, I listed "running" as one of my tasks and assigned "discipline," "fitness," and "running" as the associated skills.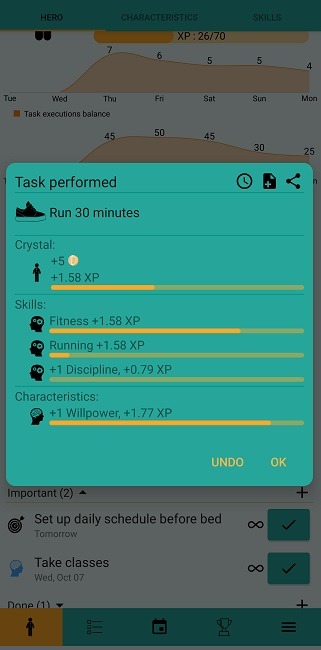 You assign each skill a value based on the task itself. This is completely up to you. The purpose is to show how you're leveling up your life. Each time you complete a task, the related skills grow. You can add the same skills to multiple tasks to grow faster.
The main features of Do It Now include:
Set up tasks once, daily, multiple times per day, weekly, specific days, and more
Assign different symbols to various tasks for better visual organization
Choose your own avatar
Check progress with charts
Notifications and reminders
View your calendar to see what's coming next
Create rewards to "buy" with the coins you earn
Gamification through leveling up skills and buying rewards
Includes dark mode and different colorful themes
Backup data
Set values for earning gold
Select skills that are the most important to you
Organizing Your Life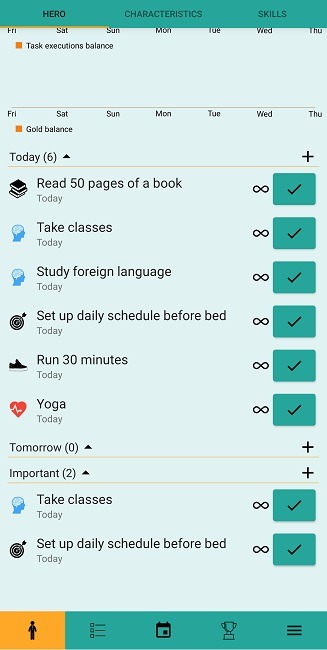 Creating tasks does seem intimidating at first. I highly recommend viewing the User Guide in the menu, which guides you through the process.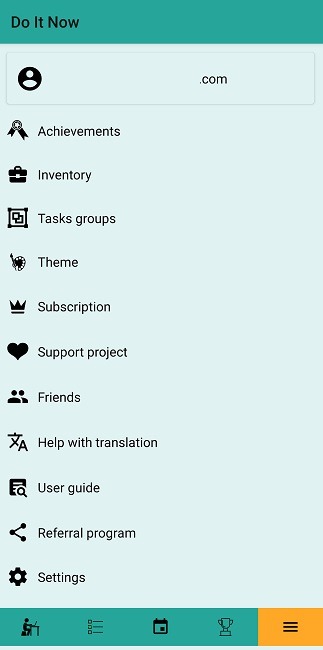 Honestly, the worst part of starting my Do It Now review was deleting the pre-loaded tasks. I wish there was a way to mass delete items, but I didn't see a way to do that. Clicking a task, tapping the menu at the top right, and selecting Delete clears it, though.
When you create a new task, you need to do the following: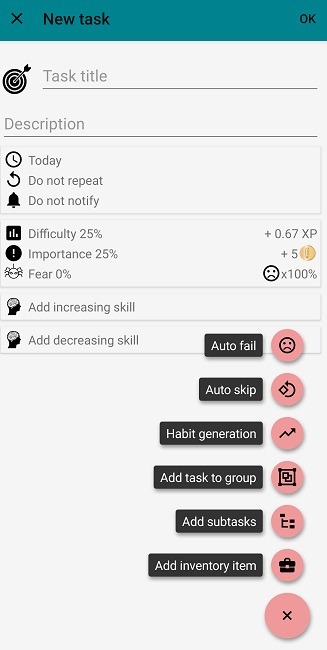 Choose a name
Add a description
Select an icon (not necessary, but fun)
Choose the task schedule and whether it occurs once or repeats
Set up notifications
Assign a difficulty, importance, and fear (the higher these values are, the more you earn)
Add an increasing skill (these are the skills you gain as you complete something)
Add a decreasing skill (skills that go down as a result – I didn't add anything here, personally)
There's also a menu at the bottom-right corner of the screen. From here, you can set up auto-complete features, add the task to a group (great for organization), add subtasks, and add an inventory item (you create and buy these). None of these steps are necessary, but they can help with productivity.
As you add new tasks, they're listed on the main screen. You'll see an overview of Today's tasks, Tomorrow, and Important. This gives you a great overview of what needs to be done for the next few days.
Winning at Your To-Dos
It's completely up to you to create your own rewards. While I like productivity apps that have fun digital items to buy, such as themes or ways to decorate my avatar, I love that Do It Now is a blank slate.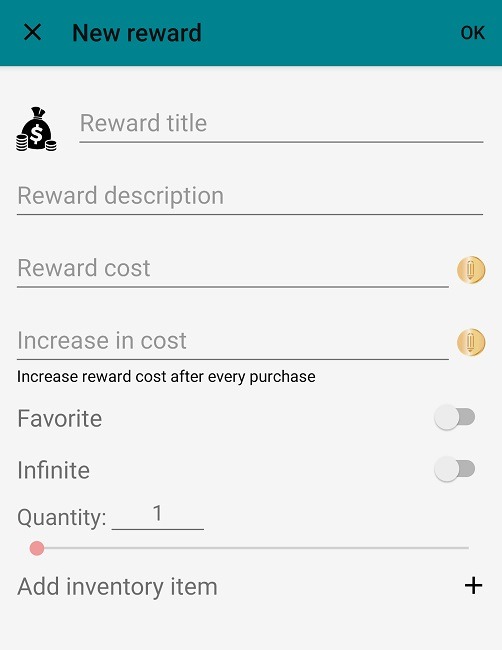 Create rewards that really matter to you. Obviously, you have to use the honor system when it comes to assigning values to your tasks and setting the cost for your rewards accordingly. It's a thrill when you finally earn enough to buy a reward and is a nice way to be encouraged to keep up with your list without too much pressure.
Premium vs. Free
I started my Do It Now review with the free version. I'll be perfectly honest – there's very little you can't do with the free version. The developers have ensured that you can play and be successful without spending anything.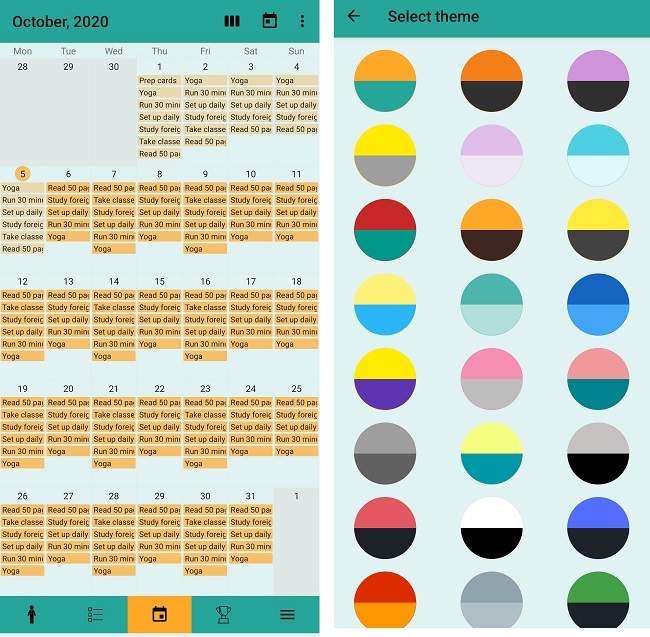 However, the premium version isn't without its perks. My favorite features are task groups, additional themes, and the custom sounds. The calendar is useful, but the home screen list may be enough for many users. Of course, the premium version eliminates ads, but they're really not intrusive, which is great.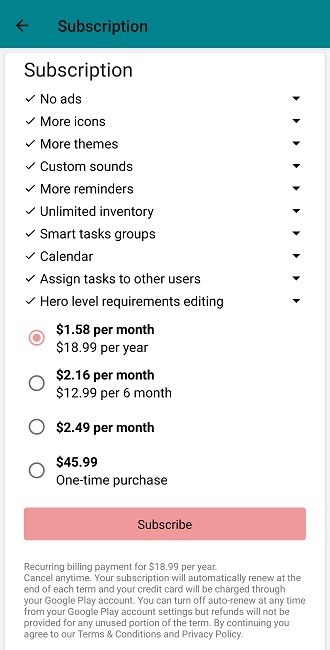 As you can see above, it's just $18.99/year for all of the premium features. If you're not sure if premium is right for you, you can take it for a test drive for $2.49 for a month. I highly recommend the $45.99 lifetime purchase if you really enjoy the app. You get lifetime access to premium for less than 2.5 years of yearly premiums.
Final Thoughts
Rating: (4.5 / 5)
Overall, this is an easy-to-use to-do list app. It adds in simple gamification and even helps you better organize tasks using the GTD (get things done) method. The only qualm I have is that the app sets an alarm that you can't change. It's not listed in the app or in the device's clock/alarm area. Even though it's listed in the notification tray, there aren't any details or anything to tap to change it. The clock widget is the only way to see the alarm time, though you still can't edit it.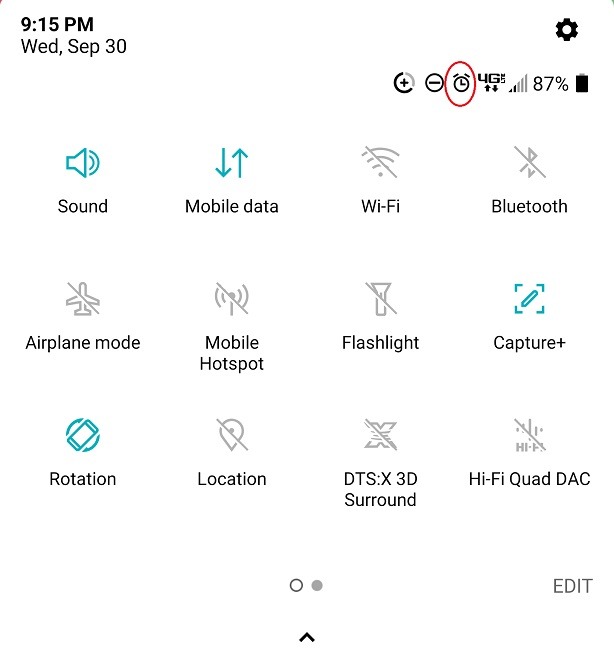 Otherwise, it's great. I recommend trying the free version first to see if it's enough. However, if you'd like the extra features, the premium version is worth it, especially at less than $2 per month.