When it comes to saving time and staying organized, Microsoft Word and its ability to add templates is a truly under-appreciated functionality. Each template can help extend the capabilities of Word by adding customized features. This is especially true with meeting planning, which should not require creating an agenda from scratch. Having an agenda mapped out ahead of time can keep a meeting on track. Here are some of the best meeting agenda templates for Microsoft Word you can implement right now.
How to Install Meeting Agenda Templates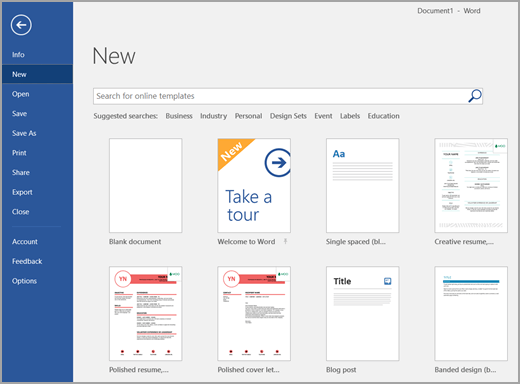 When it comes to installing meeting agenda templates, or really any form of template for Microsoft Word, the process is incredibly simple.
Start by saving the template to a folder on your computer you can easily reference and locate.
Click on "New" in Microsoft Word and locate the saved file, which is likely to be in .docx format.
Open the document, which should open a new Word window and be ready to edit.
For pre-existing Word templates available directly from Microsoft, click on "New" again, and you should be presented with a set of existing templates and a search bar.
Enter "meeting agenda" into the search bar and hit enter. Wait for the results to show up, then choose from any of the ready-to-go options that can be edited for your needs. Play with various search terms or phrases until you find what you need.
Recommended Templates
The Classic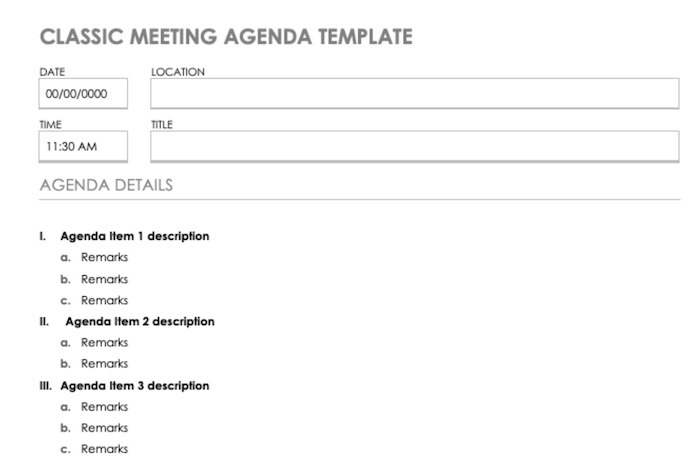 There is nothing more basic than the classic meeting agenda template. Without any fluff, the classic template helps you get directly into your agenda and focus solely on the tasks or topics at hand. There's enough room to add multiple topics and relevant subtopics but not enough room to go off script. It's a great cross between formal and informal, making it good for meetings with executives, as well as new hires.
Company Meeting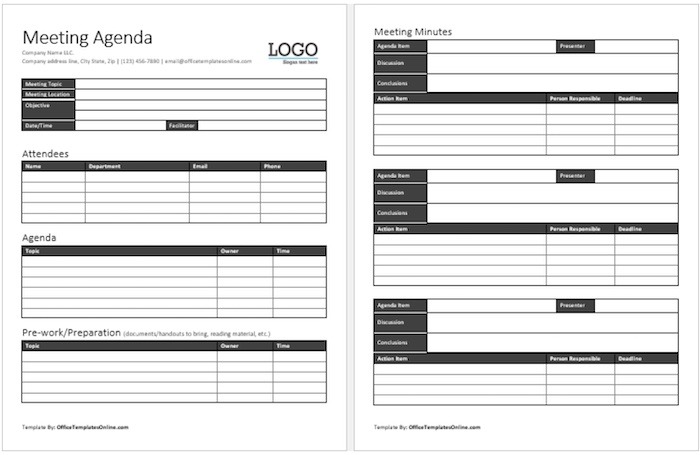 This general agenda or Company Meeting Agenda is great to have as a template to easily recognize who is responsible for which task after the meeting. Inside the template is a section for "Action Items," as well as the person(s) responsible and a deadline. Having this section available will allow for some accountability, should anything be missed ahead of the next team or company meeting.
Project Meeting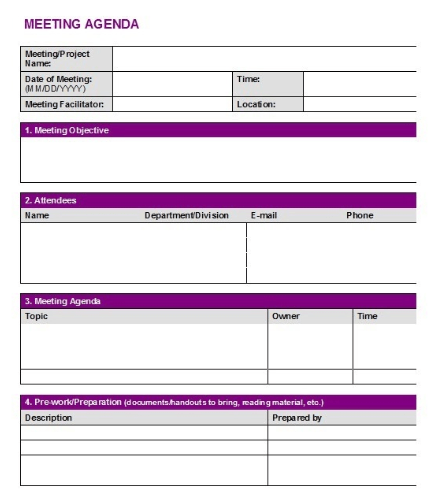 Project Meetings are never fun but are necessary. You need a detailed template to help keep track of everything discussed. Enter the Project Meeting agenda template with its specific call-out on who is in attendance as well as objectives for the meeting. Each topic has an owner listed to lead the discussion and an estimated time they should start talking during each meeting. It's those finer points that can avoid wasted time and help keep each project meeting stay on track.
Colorful Meeting Agenda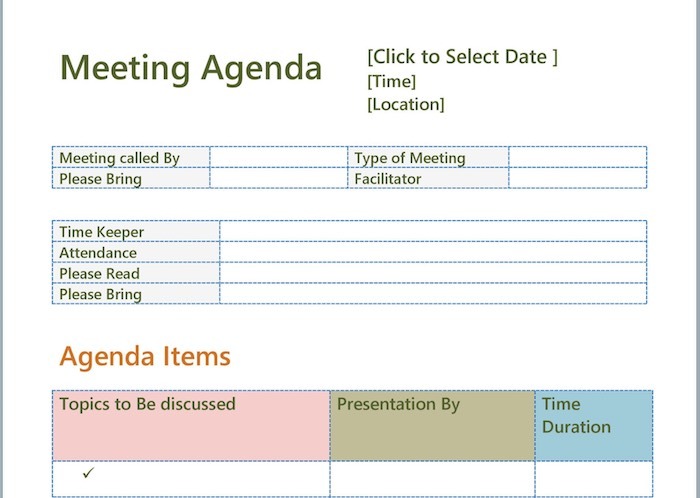 If you want to add a tiny bit of color to your meeting template while also adding some extra sections, this Colorful Meeting Agenda is for you. What's really great about this template is the addition of "Please Read" and "Please Bring" sections that can provide everyone with insight into what the meeting is about and what their role in the meeting will be. In particular, the "Please Bring" section ensures that someone will come to the meeting with the right report, numbers, facts, figures, etc., that can help the meeting move along and end with a clear idea of the next steps.
All Day Meeting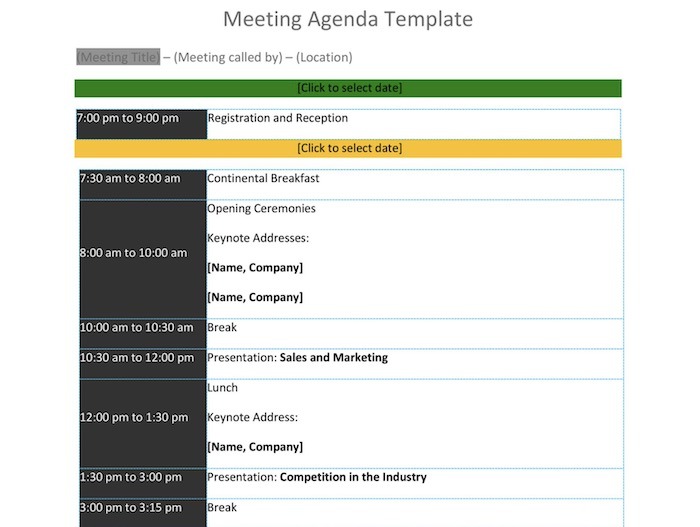 There's a good chance you don't look forward to all-day meetings, but when they do happen, a strong agenda is required to keep the day on track. This All Day Meeting Agenda has plenty of room to ensure that the entire day is accounted for, including specific times, who is presenting, and what topic they are discussing. Do you want room for breaks and evening receptions? There is an agenda item listed here for those as well.
Weekly Agenda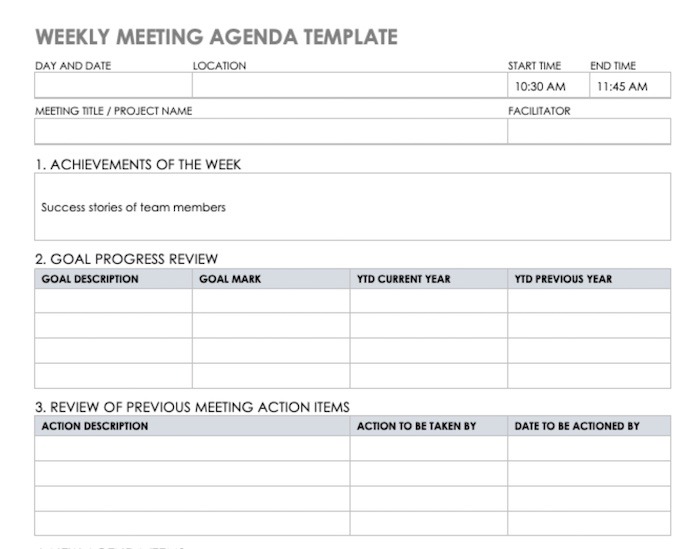 Do you have a standing meeting with your group or team each week? The Weekly Agenda Template is exactly what you need for your next meeting. The best aspect of this template is the "previous meeting action items," where you and your team can quickly review any hot topics from previous weeks to see if there are any updates. The "Review" section ensures that the team can provide important feedback to ensure future meetings are valuable and a good use of time.
Microsoft Word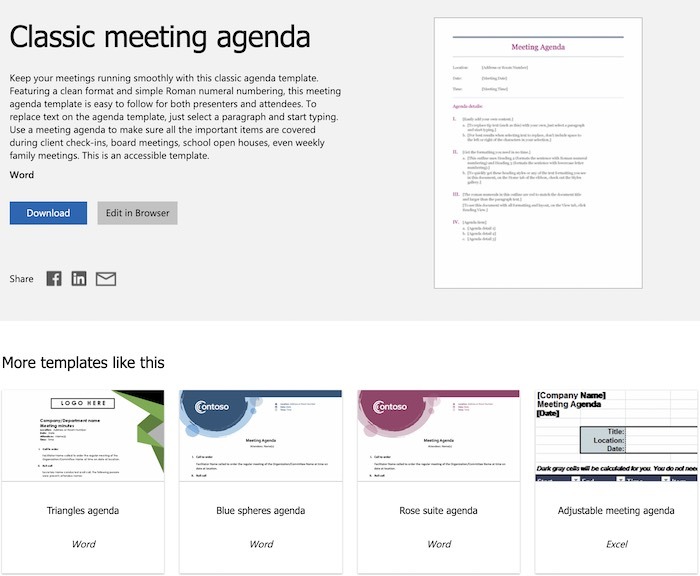 Should you decide to make choosing an agenda as straightforward as possible, Microsoft Word comes with a few ready-to-go options. You can choose from the classic meeting agenda to agendas for all-day meetings, basic agendas, as well as an agenda that is perfect for parents and PTA meetings. That there are a large number of options makes it all the more exciting to be able to quickly add these to Word and spend more time filling out the agenda than searching for one.
Teleconference Agenda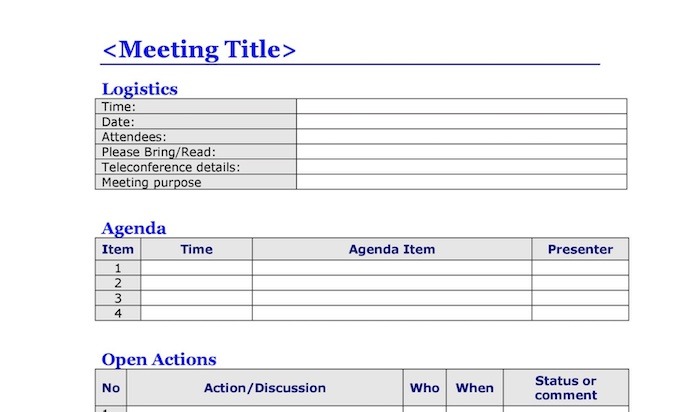 A hybrid between in-person and teleconference, this meeting agenda is great at detailing open items from last week. Add to that conference details so that off-site team members can also dial in. Both the open and closed action sections allow for who is responsible, a due date, and additional comments or status items that should be added. There's also room for each agenda item, along with who is responsible for leading the discussion or presentation on that item.
Final Thoughts
With Microsoft Word having been around for such a long time, it should come as no surprise that meeting agenda templates are so widespread. There's something for everyone in every team or office. There are almost too many to search through, but as is the case with the ones listed above, there are plenty of diamonds-in-the-rough that can provide exactly the meeting agenda templates you need. To help with your productivity during meetings, read on to learn how to set up voice typing on Windows 10.