When it comes to lists for getting things done (GTD), there are plenty of feature-rich apps that allow you to make a list of everything on your mind. The five of the best GTD apps listed below can help you to get more done in less time, thanks to a better organizational system. Let's take a look at them.
What Is GTD?
The Getting Things Done method, best known as David Allen's GTD technique, is one of the best ways you can combine productivity and time management.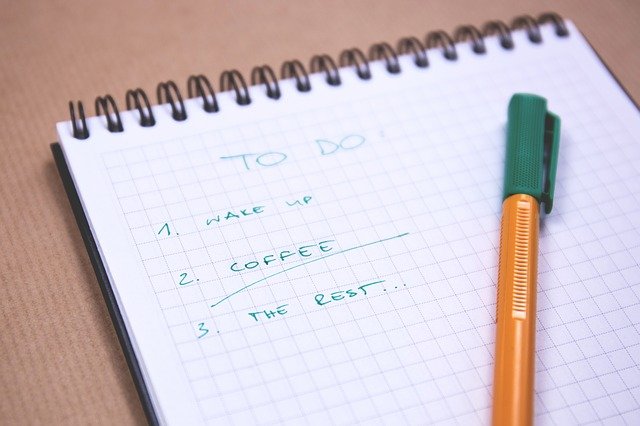 Any GTD app should be more than just a checklist of items. Instead, it should help you break items down into actionable parts or steps to get them completed. Using these apps ensures your brain doesn't have to carry the full load of everything you want to do. While the perfect GTD may never exist, some really strong options make sure you are on track and on time.
1. Nozbe
Nozbe is one of the best GTD apps and has helped countless people achieve greater productivity. Available on Mac, Windows, Linux, Android and iOS/iPadOS, Nozbe offers true mobility to stay organized on the go. Be it for individual or teams, it can be used for easy collaboration and, hopefully, cutting down on unnecessary emails.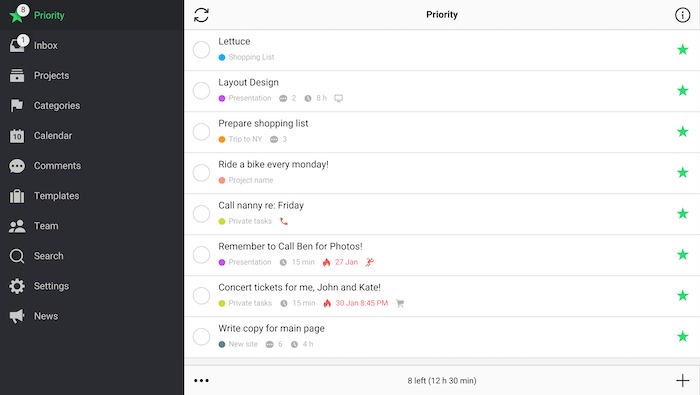 It also has the ability to connect some of your other favorite apps like Google Drive, Dropbox, Box and Google Calendar. It has all of the basics of a to-do app with lists/tasks and projects to ensure you can organize to your heart's content. Individual users can access all of Nozbe's features for $10 a month.
2. Things
Arguably one of the most popular task managers on Mac and iOS, Things is a must-own for any Apple user. Ownership does come with a price tag of around $80 total for apps on Mac, iOS and iPad OS. Unfortunately, they all must be purchased separately as well. Price aside, the interface and systematic approach to how Things handles your GTD approach is beautiful. Few apps on this list will offer a similar UX that is incredibly intuitive and practical.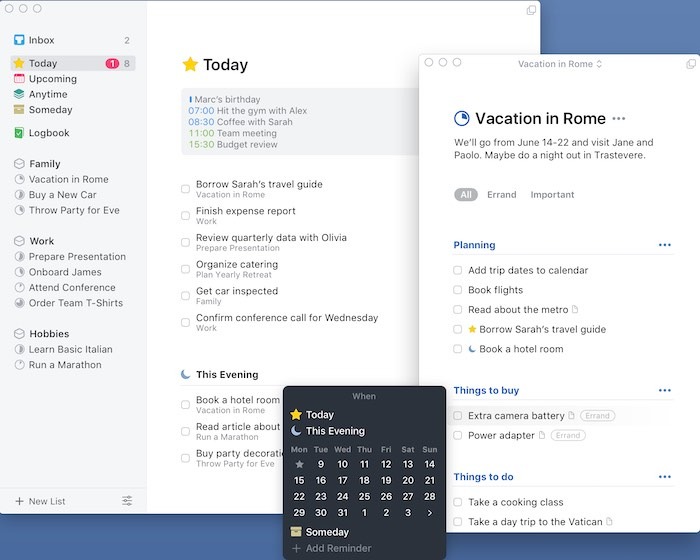 The backbone of Things is its to-dos, which can include tags, start date, deadline and a checklist. Each is a blank sheet of paper, where you can add thoughts or items you want to remember. With each deadline or start date, Things focuses on your "Today," showing you everything for that day whether it's an appointment or a work project deadline. It also allows you to add lists for "This Evening" and "Upcoming." Ultimately, each of these sections ensures your time is best put to use.
3. Todoist
Another of the best GTD apps, Todoist is cross-platform and aligns well with the GTD methodology. Similar to Things, Todoist gives you a clear overview of your day right from the start. Not only can you see what is on the agenda for today, you can also see what is coming up that week. Within each task, you can add tags/labels, notes and anything else that may be important. Tasks can be broken down into separate projects or subtasks that all ladder back up to main projects and tasks.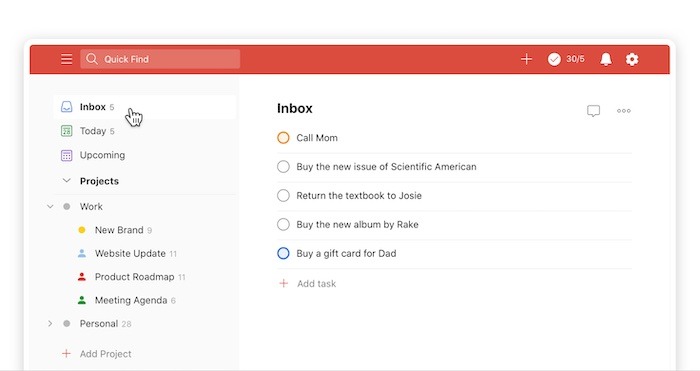 As you venture more and more into the Todoist space, progress can be seen through the "Your Productivity" tracker. This helps you visualize how well you are doing within the app – not your productivity overall, though still a fun way to ensure you are properly managing your time. Todoist can also be integrated with apps like Chrome, Microsoft Teams, Jira, Trello and more.
4. Nirvana
Nirvana is a hidden gem of an app that is "built for getting things done." The app is excellent at helping you perform tasks, share projects, schedule tasks and set deadlines all in the name of proper time management. The most unique aspect is that it will organize tasks based on energy levels. In other words, it will prioritize tasks for those requiring low energy that are more remedial in nature versus tasks that require more energy and therefore more concentration.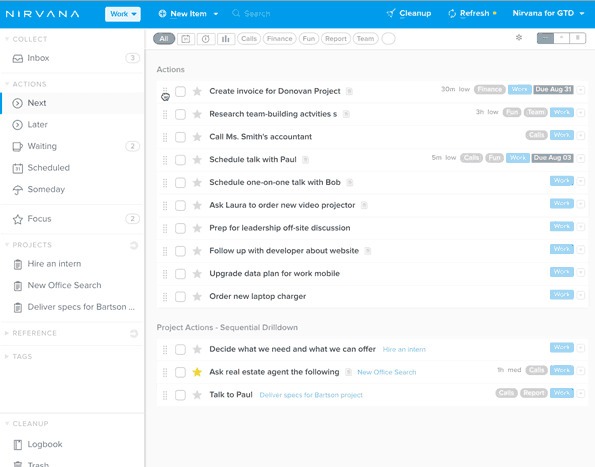 It's a very unique way of ensuring proper time management. As a cloud-based platform, it is available across multiple devices, including through the browser, Windows, macOS, Android and iOS. What Nirvana lacks in name recognition compared to apps like Things or Todoist, it makes up for with a lower monthly cost ($5 per user/month) and unique feature set.
5. 2Do
2Do is yet another GTD apps for macOS, Windows and Android, It's fully-featured and embraces GTD, building on it with more features than you can possibly hope for. Everything from smart lists to tags to projects, lists, search, quick entry, batch editing and backups are all available. Want to connect with Dropbox for multi-platform synchronization? That's available right from the start. The same goes with integration for iCloud Reminders.
Having recently undergone a redesign, the UX is more user friendly with an improved calendar, notification center widget, and a native inbox that helps you look at today, tomorrow and future tasks. A single user license starts at $49.99, which places 2Do near the top of the pricing mix. Apps for iOS and Android are sold separately as a one-time purchase. However, each purchase ensures lifetime support and any new features. If you live and breathe the GTD method, it's a small price for one of the most feature-rich apps in the space.
Final Thoughts
Each of these five apps embrace the GTD philosophy and are some of the best GTD apps on offer. That said, each of these apps has proven itself in the space with plenty of user reviews and feedback. Embracing any of the apps and the GTD lifestyle will ensure that your productivity will soar and that your time management will improve dramatically and quickly. If you're looking for even more, read on for five of the best productivity apps for Android.