As our lives get more and more distracted, it's very easy to lose focus. We all want to be more efficient and can hopefully figure out how to do so. One of the best ways to get started with being more productive is to start listening to productivity podcasts. While each podcast will approach productivity a little differently, each one will help learn to better manage your time. Podcasts are especially great in that you can start and stop listening at your convenience. Here are some of the best productivity podcasts you should start listening to today.
1. The Productivityist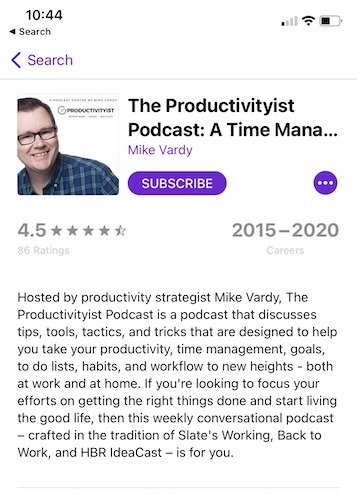 If the name isn't a dead giveaway, this podcast by host Mike Vardy is all about being more productive. A self-proclaimed productivity enthusiast, Vardy's goal is to help you find your own path on the journey to being more productive. Weekly guests often feature CEOs, authors, entrepreneurs and more. Vardy's most recent podcasts have ranged from how to work deeper to mind-mapping your writing to how slowing things down can actually make you more productive.
Vardy ensures that each show provides actionable tips to help you gain time management, all while maximizing how productive you are every day. On top of that, he also looks to help you discover and maintain positive habits so you can not only strive toward a goal but accomplish it.
2. The 5 AM Miracle
If listening to podcasts before you sit down for breakfast is something you look forward to, The 5 AM Miracle by Jeff Sanders is the productivity podcast for you. Sanders tries to deliver podcast episodes to help you "bounce out of bed with enthusiasm" so you can create habits that will last you your whole life. Topics include everything from developing healthy habits, personal development, increasing productivity to how to get more done each morning.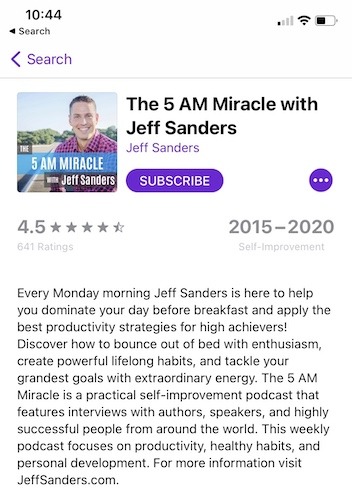 Sander's enthusiasm for his topics and his listeners is contagious, and he practices what he preaches. An entrepreneur, vegan and marathon runner, he is a high achiever all on his own. That energy comes through on each and every podcast. Do you want to optimize your workflow with small habits that can increase over time? Then this is the podcast for you. Guests regularly appear on the show, but Sanders can more than hold your attention on his own through every episode.
3. Beyond the To-Do List
Beyond the To-Do List by Erik Fisher is a homerun for anyone desperate to learn more about productivity. With every episode, he explores productivity topics, including getting the right work done as well as getting good work done. Fisher's main priority is to help you understand that a feeling of relevance is the ultimate goal in being productive.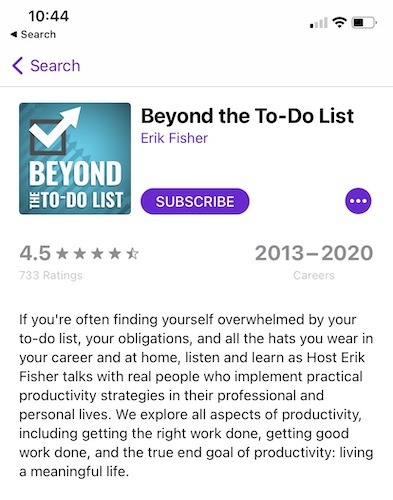 He often has guests who can wow you with their success stories. Ample time is available for Fisher to talk to other's who have failed so that you know it happens to everyone. Guests are frequently other productivity experts who delve into topics that help you forget how long you have been listening. Your personal life can get a boost, as the tips learned here can apply in every aspect of your life.
4. Getting Things Done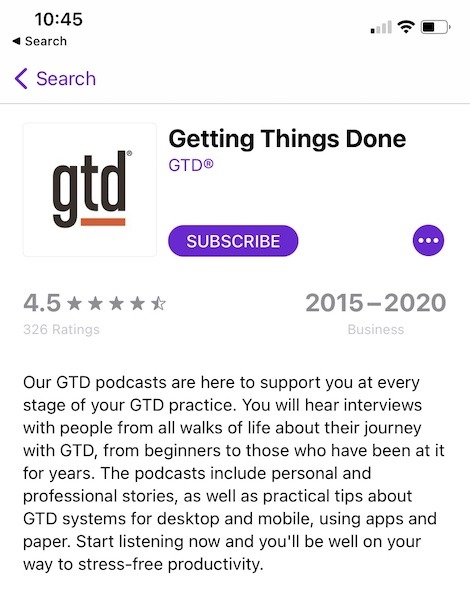 Bestselling author David Allen is the host of an appropriately named podcast called Getting Things Done. Allen's podcast is ideal for anyone looking to be inspired and more productive. Allen regularly shares tips on how to maximize productivity and how each of his tips and productivity steps can lead to success.
That's not all, though, as Allen also delves deeper into topics like personal productivity along with tips on increasing your own creative juices so you can get to the next level in life or your career. Guests come from all different walks of life and help provide their own unique insight into what works for them to find the right formula for productivity success. Don't forget to read our review of the book "Getting Things Done," too.
Conclusion
Everyday-life is crazy enough, so it's easy to lose track of your priorities. Podcasts are not a guaranteed formula for success; they are easy to listen to while you work, drive, cook or relax. That they are free makes it all but impossible to say you cannot find someone worth listening to. Who knows? They may be able to help improve your personal and professional productivity life. If you are not a fan of podcasts, you can try these audiobooks instead.