With the transition of an outside office to working from home, it's easy to feel overwhelmed with clutter. Even if you have spent years in your home office, it may still be a struggle. This is despite knowing that having a clean and organized workspace will likely make you feel more productive. If you're stuck and don't know where to start to get your desk in better shape, this list of great desktop organizer tools is exactly what you need.
Bamboo Desktop Organizer
It's all too easy to let pens, pencils and other knick knacks take over your desk. Offering a design that's both simple and attractive, the Sorbus 3-Tier Bamboo Shelf Organizer is a great option. The multi-purpose design allows for a variety of office supplies and utensils to be stored, organized and forgotten until needed.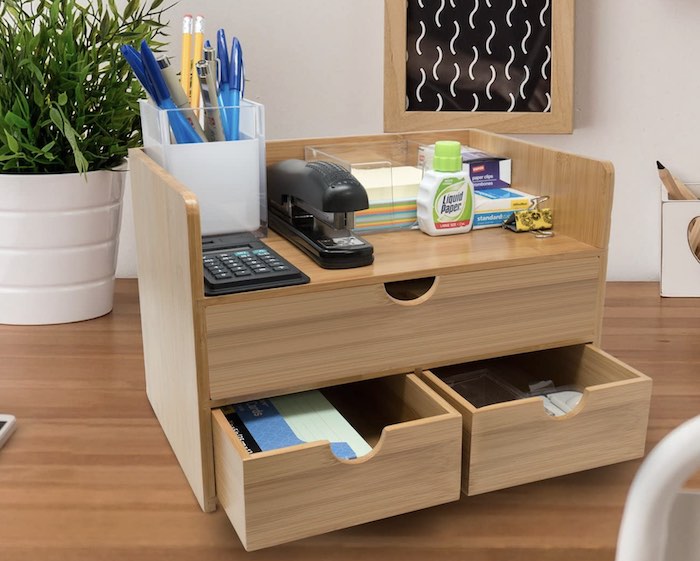 At 11.87" long and 7.75" inches tall, it only uses a small footprint on a desk, yet will help you organize and do so without taking up much needed space. The functional design includes four total compartments across all three tiers with two smaller drawers, one wide drawer and a top shelf for extra storage. Everything from sticky notes, staplers, tape, calculators, glue and more can find a home in this organizer.
Jelly Comb Monitor Stand Riser
When desktop space is really at a premium, a monitor stand riser, like this one from Jelly Comb, can be a huge space-saver. Capable of holding up to 55 pounds, this riser is strong enough to not only handle a monitor, but also dedicated all-in-one computers. Given its strength, the riser can expand from 16.5 to 20.5 inches wide to accommodate screens of all shapes and sizes.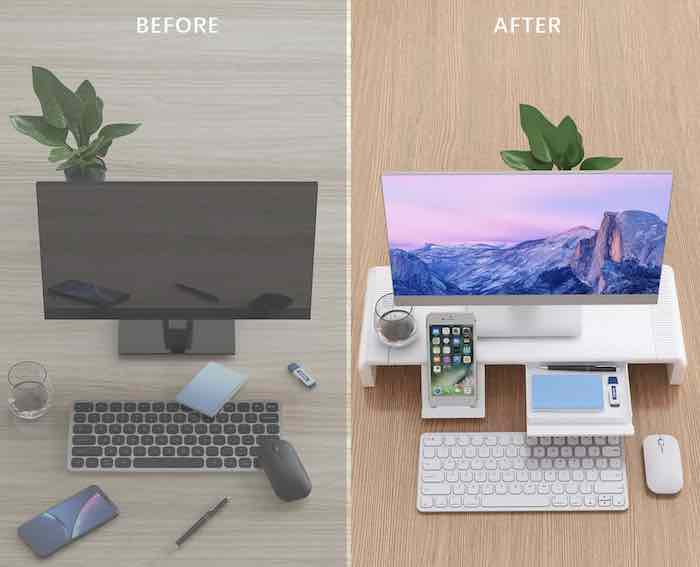 Durability helps make the Jelly Comb one of the better desktop organization tools, along with a built-in mobile phone/tablet stand and a storage drawer that can hold all of your pens, cables, sticky notes, etc. When your workday is over, slide your keyboard and mouse underneath the stand so you have extra room on your desk for reading, drawing or other non-work-related tasks.
Toysdone Desktop Cable Management
Whenever you have a cluttered office, there is a good chance too many cables are playing a role in that disorganization. Between a laptop cord, phone cord, tablet cord, monitor cord, Ethernet cord and other miscellaneous cords, things can get away from you fast.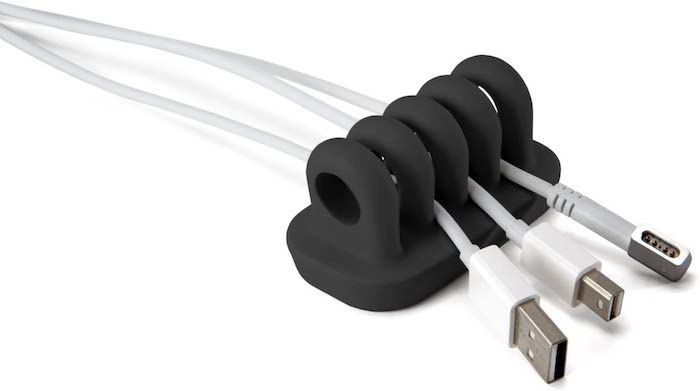 The Toysdone cable management tool is an inexpensive and quick solution to organizing all of your cords. With five rubber grips and four slots for cables, each slot is deep enough to hold multiple cables. Add to that a very small footprint which takes up almost no space on a desk, and you can almost instantly control all of your loose cords. The weighted base ensures it won't move around or come loose as you add or remove cables throughout the day.
Great Useful Stuff Charging Station
Another of the fast and easy desktop organizer tools is a multi-device charging station. With so many people owning smartphones, tablets and smartwatches, charging everything can quickly become an organizational mess of cables. Great Useful Stuff's multi-device charging station is the answer everyone needs but nobody knows to look for.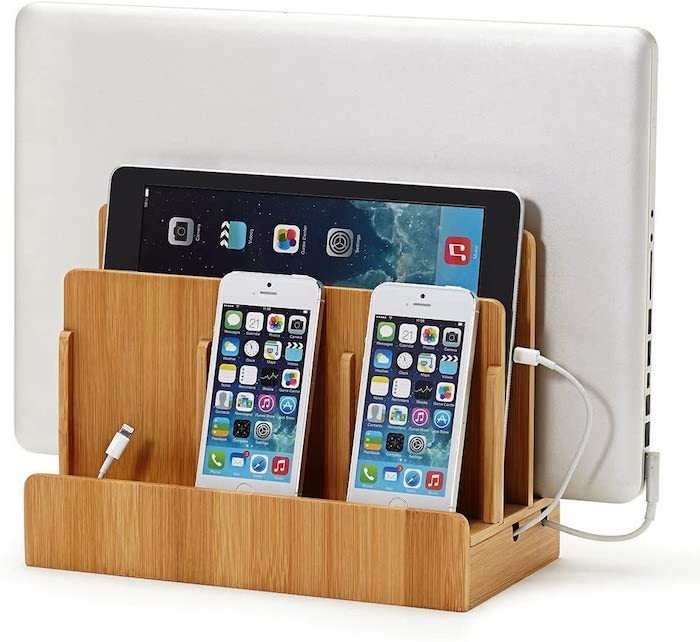 This station has a single slot for your heaviest electronic devices, like a laptop, as well as a single slot for a tablet. The front position has three slots for smartphones and can handle both iOS and Android in each of the three sections. Cable is organized underneath so that there is no slack sticking out. Built from eco-friendly bamboo, the station is as durably built as it is useful.
AmazonBasics Hanging File Folders
Like cables and electronics, papers are another nightmare for anyone who values desktop organization. Thankfully, AmazonBasics has its six-pocket file folder that can be hung right next to your desk for easy storage.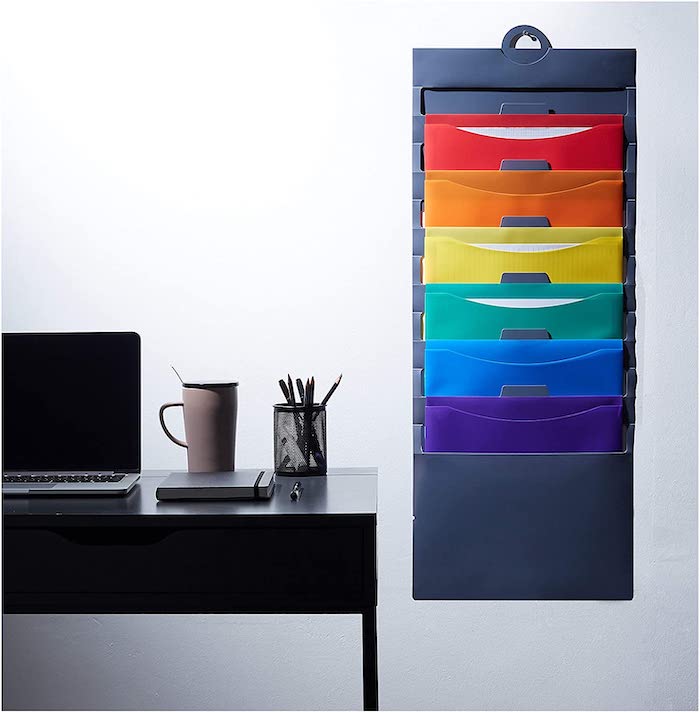 Each of the removable pockets can hold up to 25 sheets of 20-pound paper through the single hook that hangs via a nail. Built out of polypropylene, the entire unit is tear-proof and resistant to liquids on the off chance you are carrying coffee when pulling out a file. Thirty-six inches in length, the file folder is long enough to get you organized but not so long that it takes up the entirety of a wall.
Large Mouse Pad
While you may immediately wonder how a large-size mouse pad can help you organize your desktop, the Mirstan mouse pad has a few surprises. Aside from being a mouse pad to control your computer, there are three separate pockets to hold photos, pencils, stickers, erasers and other small items.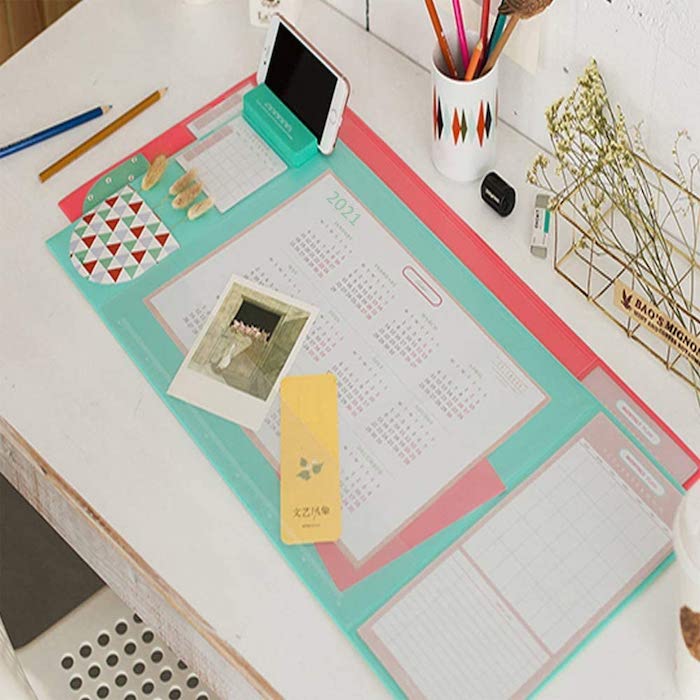 A dedicated phone stand keeps your smartphone within view and allows you to talk or chat through videos hands-free. Add in an anti-slip bottom and waterproof design, and this mouse pad can withstand spills without skipping a beat. Available in a variety of colors, you'll likely find an option to match the rest of your office decor.
Headphone Hanger
With remote work heavily focused on Zoom, Microsoft Teams and Google Meet, there is a good chance you are using a pair of headphones. With the Brainwavez headphone desk hanger, you'll definitely free up space by moving headphones large and small off to the side of a desk.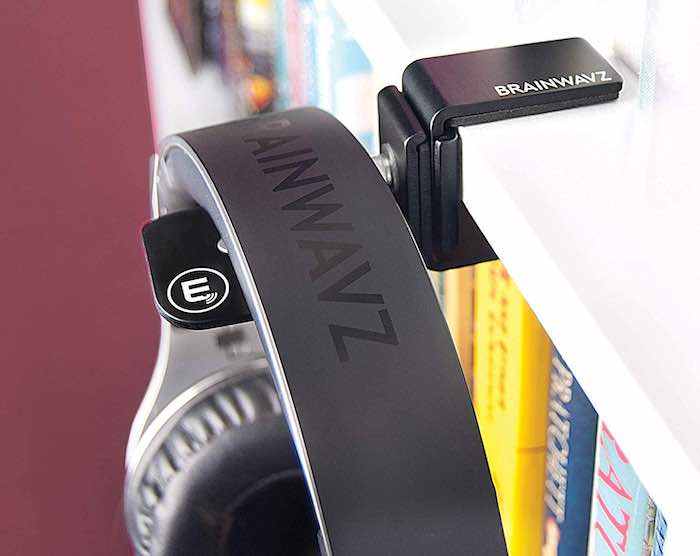 There are no screws, no glue and no mess with an adjustable design that can quickly be tweaked to fit desks of nearly any thickness. That it can quickly be removed and added to another spot on a desk makes this an invaluable tool for any home workspace. The metal construction won't wear or tear with frequent use and, with a 40mm depth, it can fit even the thickest of headphones.
Final Thoughts
There is no shortage of desktop organizer tools online, and Amazon in particular is full of thousands of options to help make your life easier. That you can store and organize everything from cables to pens to smartphones and headphones all but guarantees that your home workspace is going to get organized and remain so.