In this new world of millions of people outfitting home offices, it's more important than ever that we stay organized and productive. Easy access to social media, cat videos and TikTok has made it harder than ever to stay focused on work. Sometimes a little help from office gadgets is all you need to keep everything moving during the course of a day.
Monitor Stand with Drawer
When you are working with limited space, organization can be critical. The last thing you want is to be constantly distracted looking for a pen or piece of paper. Products like Simple Trending's monitor riser stand can be nothing short of a home office lifesaver.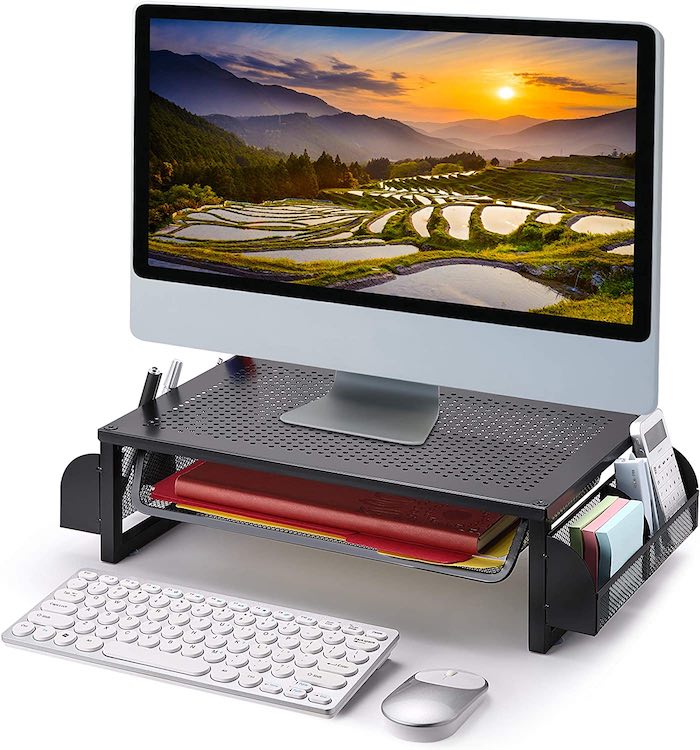 On top of raising your monitor to a more comfortable eye level, the riser adds a built-in sliding drawer and four separate side storage pockets. Need to keep a notepad or a bunch of papers at your desk? They'll instantly get out of your way thanks to the sliding drawer that rests right beneath a monitor, laptop or all-in-one desktop computer. Each of the four side pockets is ideal for pens, pencils, calculators, sticky notes, cables and more. Measuring just north of 19 inches long, 10 inches wide and 5 inches tall, it organizes without taking too much additional space.
Heated Coffee Mug
The days of beverage warmers taking up space on your desk are over. Ember's temperature-controlled smart mug (available in white or black) is a great way to ensure your coffee stays warm so you can keep going and going throughout the day.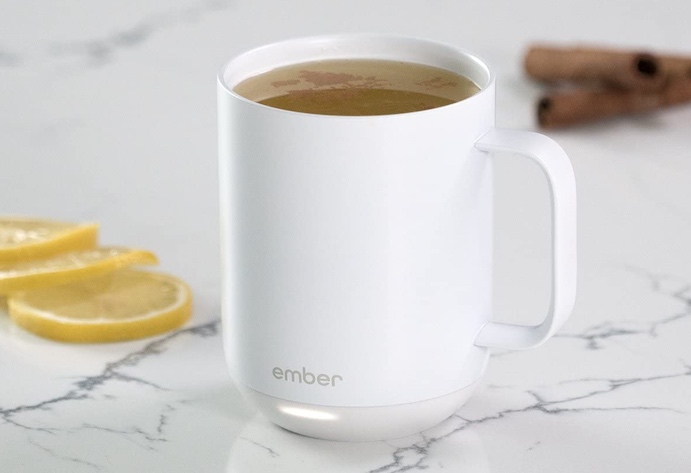 Capable of reaching temperatures around 145 degrees Fahrenheit (about 63 Celsius), there is no reason for your coffee to ever get cold. Add in one-hour battery life and a smartphone app to help control heat or receive notifications when your cup hits your preset temperature. This smart mug is a must-have for any home office powered by coffee.
Wireless Phone Charger
While it may seem obvious that working from home means your phone can easily stay charged all day, that is rarely the case. Products like Anker's 3-in-1 wireless charging station make it easy to never worry about charging again.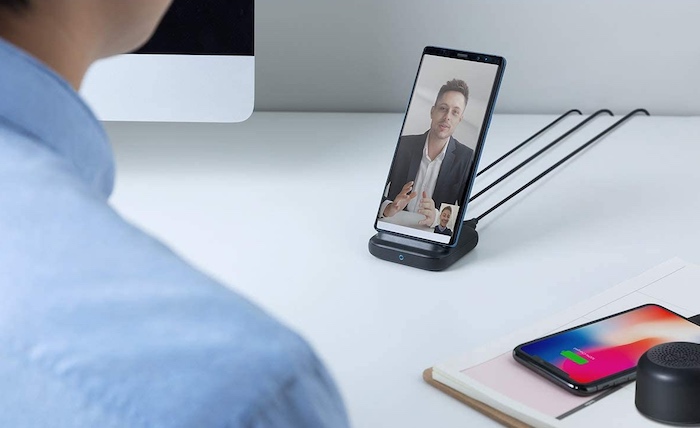 Adding the Anker also means less desk clutter, as its lone power cable can easily tuck away behind your desk. Powering both iPhone, Samsung and other smartphones capable of wireless charging, it even works with most phone cases. Want to watch a video on your phone while working? Just turn it sideways on the Anker stand, and it will still charge as you watch. It's the perfect way to multitask and stay powered throughout the day.
Portable Standing Desk
Plenty of research has shown that standing desks can provide health benefits over sitting all day. The problem is that a good standing desk is often expensive, bulky and can take weeks to arrive. That's what makes a product like the Levit8 portable standing desk so attractive. Quickly allowing you to go from sitting to standing and back again, this inexpensive portable standing desk is a must-have for any home office. Just twist, turn and stand.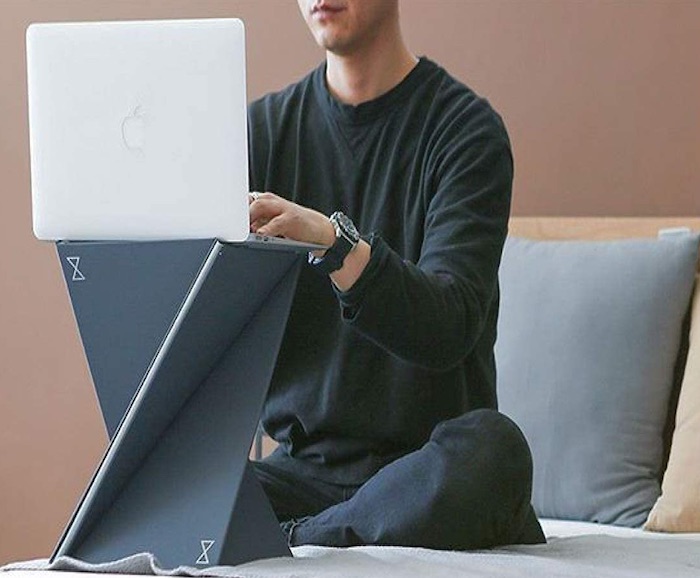 Available in small, large and extra-large, each size provides 9, 11.9, and 16.2 inches of standing height respectively. That the small and large sizes are portable enough to fit into a messenger bag or backpack speaks to just how portable this standing desk is. It allows you to grab your laptop, head to any other room in the house, prop it up and continue to work while changing up your view. Throw in a waterproof design, no assembly or additional parts, and it's easy to see why this is a popular option for home offices.
Anker PowerConf Bluetooth Speakerphone
The last thing you want is to keep earphones on all day during conference calls. No matter how expensive you go, no earphone or headphone is comfortable day after day, week after week. The Anker PowerConf bluetooth speakerphone will change the way you take or make calls.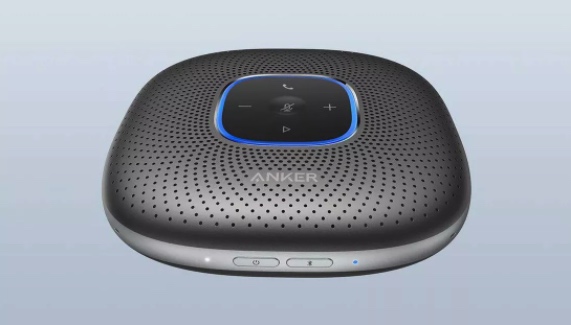 With six microphones arranged in 360 degrees, you can place the speaker wherever you need to in your office, and it will pick up your voice. Connecting directly to a smartphone or computer via Bluetooth, you can truly go hands-free all day long. Powered by a 6,700mAh battery, you can easily go 24 hours without a recharge, good for at least two to three days of eight-hour use. Throw in compatibility with all major conferencing platforms, and this is another must-own.
Dry-Erase Desktop Computer Pad
Say goodbye to the days of Post-it notes and notepads. The Quartet glass desktop computer pad is an 18-inch-long dry-erase surface for quickly jotting down notes. Angled for comfortable reading and writing, the Quartet is perfect for keeping yourself organized day after day.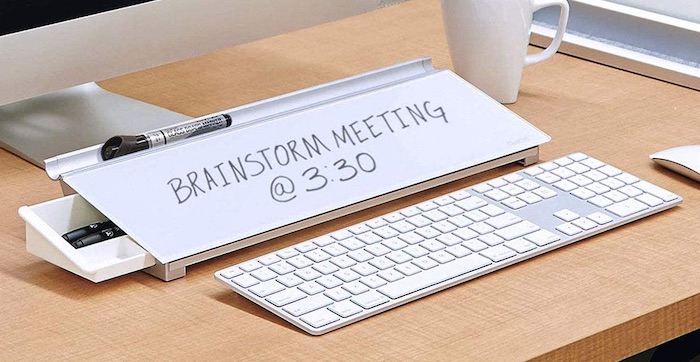 The glass surface is comfortable to write on and ensures erasing old notes is fast and easy. There is even some hidden storage underneath for markers or other small items in a hidden drawer underneath the glass surface. Top it off with a 15-year warranty and you know this is a product that you can have for a long, long time.
Conclusion
Finding the right office gadgets to help you become organized and productive is no small task. There is a gadget for everything. Don't forget the basics like noise-canceling headphones, good lighting and a comfortable keyboard. If you are easily distracted, a product like a fidget spinner may be useful to help you focus.