Making a goal is not difficult, as a goal can be as simple as committing to going for a walk that day. Most goals require more attention and may, therefore, need some tools or methods to help keep track of reaching them. As you track your progress, it becomes a great way to review all that you have accomplished and what is left to achieve. The more you track, the more motivated you become as well. But what is the best way to keep track of your goals?
1. Pen and Paper
Sometimes you just want to go old school. There is no question digital tools are useful, functional and offer a wide variety of options. Even so, to many, pen and paper is still the best option for goal tracking.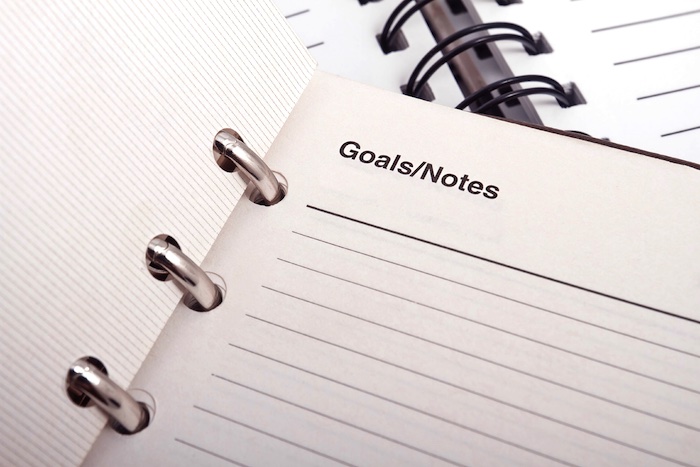 There is a certain level of freedom of being able to track, write and design in your own way. You are free to write your goals as bullet points, paragraph form or any format of your choosing. The recommendation is to buy a dedicated notebook or notepad that you can use for the sole purpose of goal tracking. On the first few pages, write down the goals you want to achieve, large or small. You can set up lists by day, week or month and then check off every milestone or step on the way to your goal.
2. Excel/Numbers/Google Sheets
If you are someone who really likes to see things visualized in rows and columns, you won't do any better than Microsoft Excel, Apple's Numbers or Google Sheets. For the purposes of goal tracking, they would all work and feel the same, with a few rare exceptions for formulas and overall look.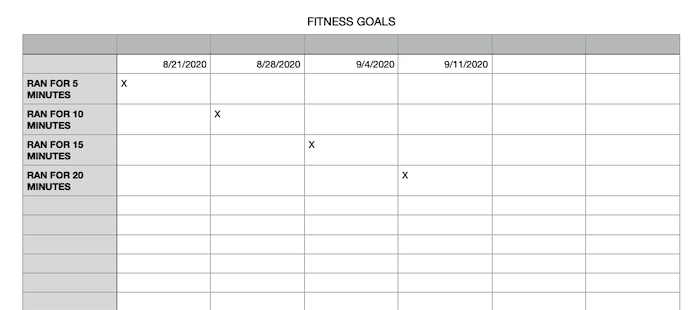 Using one of these tools would provide you with an infinite way to enter and adjust your goal tracking. All of these tools can be uploaded to the cloud so you can pull up your tracker anywhere in the world. Create a spreadsheet with dates as columns and rows as milestones and check off when you hit each milestone. The final row should be your ultimate goal, and you can watch the checkmarks add up.
3. Trello
For anyone who loves the visual feel of a Kanban board, Trello is one of the most popular options.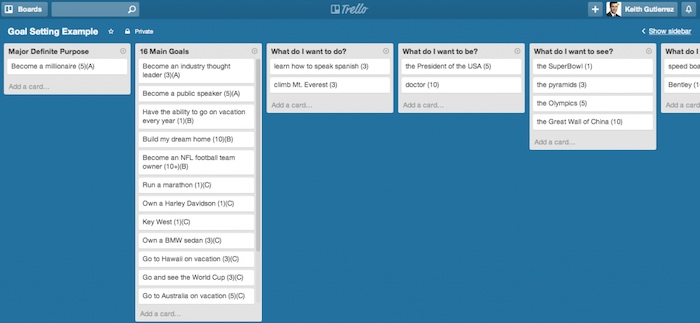 One of the best ways is to utilize one column for your main goals. Then, create separate columns (boards) to the right or left of the main goal with different milestones you want to hit on your way to success. One column can also be a to-do list of smaller steps you need to accomplish. For example, if your main goal is to travel around the world, you can create one board for saving, one board for booking hotels, one board for booking flights, etc. Obviously, this can be substituted for more personal goals as well, like losing weight, getting a new job, etc. Trello is a beautiful and visual way to see your goals become a reality, and the customization options are almost limitless.
4. Whiteboard
The question we need to start asking is, what can't a whiteboard do?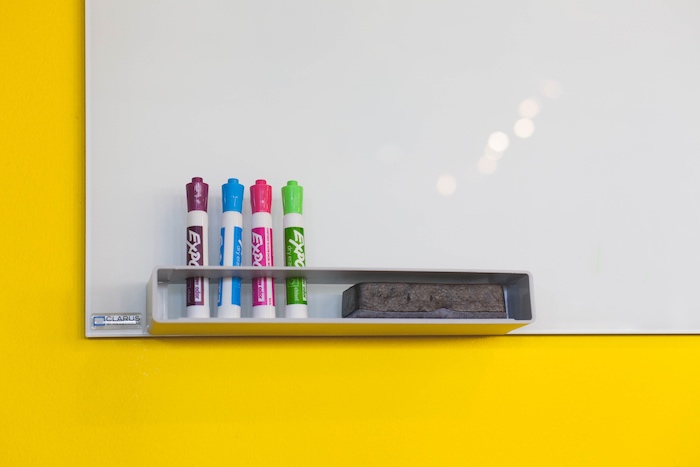 When it comes to goal tracking, a whiteboard has plenty of positives. Take your dry-erase pen and write out a timeline to your main goal. Identify the milestones you want to accomplish along the way. Below that, write out a to-do list of what it is going to take to achieve each milestone. Hang the whiteboard next to your desk in your home or workplace office and look at it daily. The more you see the goals written out, the more likely you are to be motivated. Want to post a sticky note on the whiteboard with a brand new thought? You can do that, too. While the whiteboard does not offer the customization of an app, there is something about writing out your goal that makes it feel more real.
5. Strides
While it's iOS-specific, Strides is one of the most popular goal tracking applications available. Its popularity is based mostly on how easy the app is to use as a goal tracker.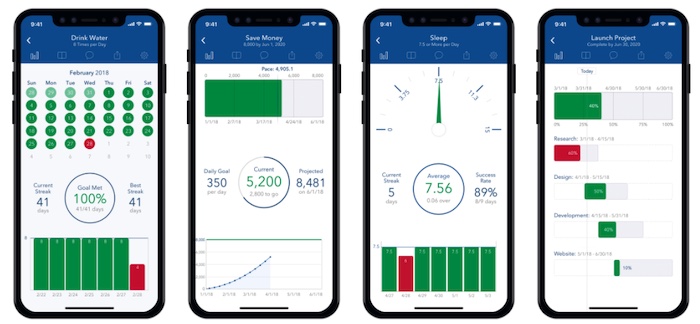 All you need to do is select the goal you want or choose from one of the preselected goal types. You then set your target date and what actions you will need to achieve this goal. Strides can also help you establish milestones on the way to achieving your main goal and give you progress reports on the way. Unlimited reminders will help keep you motivated and aware of where you stand toward your goal. With a premium subscription, your data is synced so you can see it from your iPhone, iPad or through the web portal.
6. ToDoist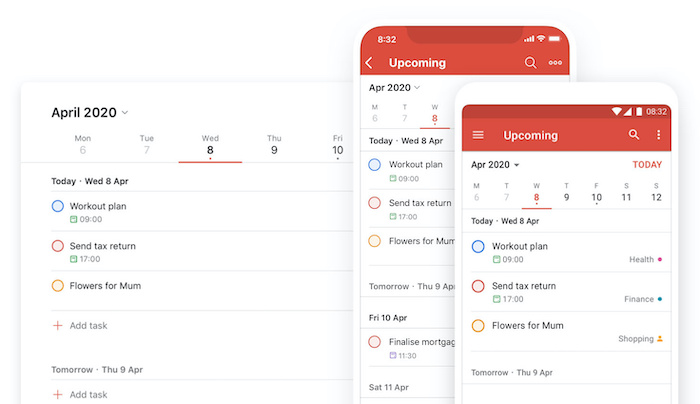 A cross-platform favorite, ToDoist is a productivity tool for the masses. Start by creating a new goals project inside the app. You can then add new sections to suit whatever goals you want to accomplish. Add one section for personal development, one for health, one for travel and keep going as needed. Then, add a goal underneath one of the sections and start creating your milestone to-do list.
These milestones are added as sub-levels and should help you track progress toward your primary goal. You can add comments, dates, color codes, or icons to give them a little personalization. As a cross-platform app, ToDoist is available on almost every platform, including your Amazon Echo, so you are never far from your list.
No matter how you go about it, achieving your goals can make you feel like a lottery winner. Whether they are small goals or major lifestyle changes, every win is a reason to celebrate. To help find this success, you need to have a system that helps keep you motivated and tracks your progress. Any one of these six tools will work, and there are plenty more options to choose from. What is your favorite way to track goals?