Sitting all day while you work can lead to neck, back, and leg pain. That's why standing has become such a popular alternative, especially a mix between sitting and standing throughout the day. But standing desks aren't the cheapest addition to your home office. The great news is you don't have to spend much to create your own standing desk.
The Floating Shelf Desk
The simplest option is to add a shelf at the right height. Instead of an actual desk, install shelving brackets and a sturdy shelving board. OpenSoul.org details how to make one yourself (pictured above).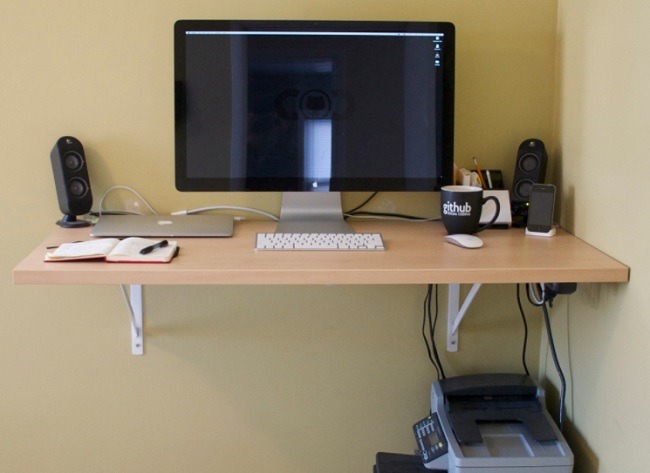 It can be as wide and long as you need. Make sure you check the weight limits for the brackets, as you'll want it to be strong enough to support your computer. If you're using a laptop, you can elevate it above your keyboard by using a laptop stand.
The only downside is you can't go back and forth between a sitting and standing desk with this option. However, you can always place a basic desk or table below the shelf and move your computer and keyboard back and forth.
Coffee Table on Top of Your Desk
If you can find a cheap coffee table that's not as wide as your current desk, that's all you really need to create your own standing desk. Add some anti-skid pads under the legs of the coffee table and place it on your main desk. You'll need to measure to make sure you get the right height.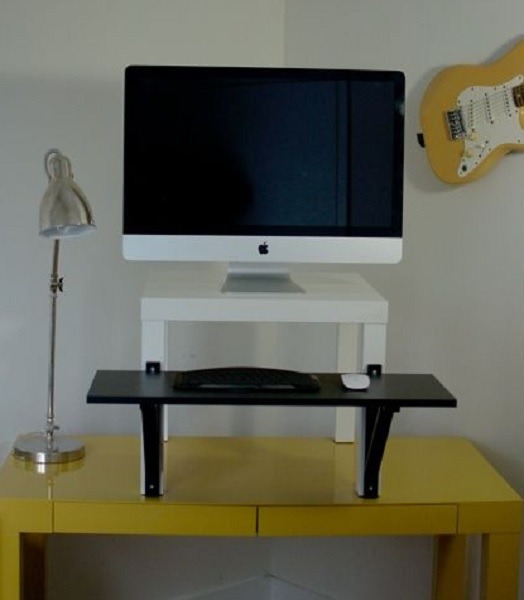 Some people put together a simple table and an end table instead to best meet their needs. Thrift shops and even inexpensive tables at Amazon and IKEA work well. One guy built his entire standing desk for under $22 (pictured above) using random pieces he bought at IKEA.
Use a Box or Crate
The absolutely simplest and inexpensive way to create your own standing desk is to use a sturdy box or crate you have lying around. Odds are, you probably have boxes from packages you've had delivered. Use a little tape to seal the box and keep it from caving in.
Crates, especially milk crates, work really well for this. They're designed for heavier loads. Plus, if you're using a laptop, the crate has holes for ventilation.
For a sturdier option, place two smaller boxes or crates side-by-side with a board on top. This gives you more room for your keyboard and mouse. When you want to sit down, just stack the boxes/crates beside your desk.
Build Your Own Standing Desk
If you don't mind doing a little construction one weekend, you can build your own from scratch. You don't need to build an entire desk. All you have to do is build a simple stand that adjusts up and down. Wood, metal strips, and screws are all you really need for this.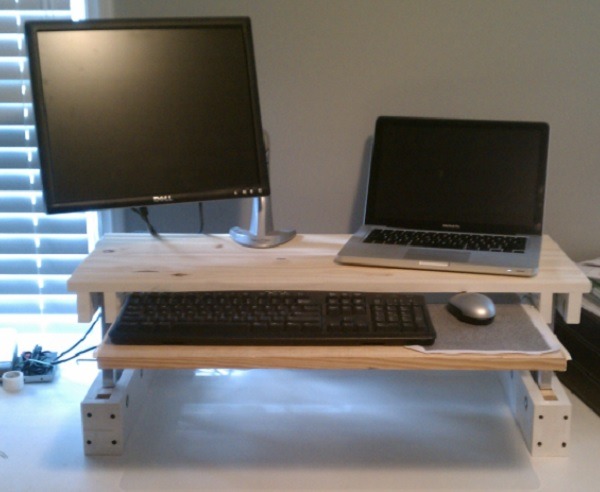 Code Over Easy (pictured above) has step-by-step instructions for building your own desk that easily adjusts from a sitting to standing position. The post is from 2013, so the supplies likely cost a little more than $25 now. A Beautiful Mess also has project plans for another desktop adjustable standing desk.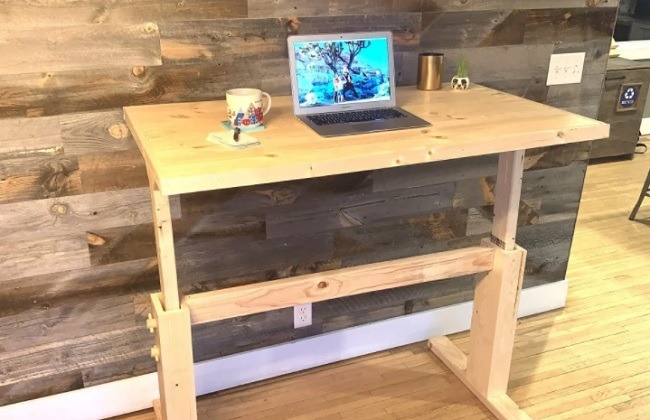 If you want to build an entire desk, you can still build your own cheaper than buying a standing desk. Family Handyman has a free pattern for building a simple, yet surprisingly professional-looking desk (pictured above) that adjusts back and forth. It also has a small footprint, which is ideal for smaller offices and spaces.
Use Bed Risers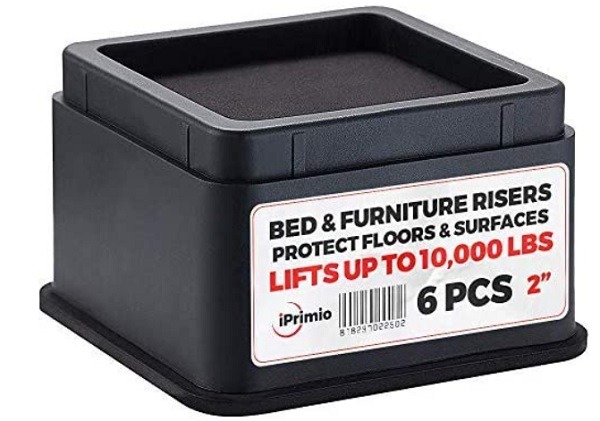 This won't work on all desks, especially desks that don't have legs. The risers have to fit under the legs and be able to support the weight of your desk. Lighter-weight desks and basic table-style desks work best with this standing desk option. Stacking risers help you get the perfect height or just mix standard risers with a laptop stand. A few options to consider include:
No matter what method you use to create your own standing desk, you'll reap the benefits of not sitting so much. And, when you do sit, consider using an under-the-desk fitness trainer.
Image Credit: Family Handyman, Code Over Easy, AlphaColin, and Open Soul