You know the feeling when you are in the zone and just keep working? It's possible the last thing on your mind is keeping track of your hours. The good news is you don't have to stop being in the zone. Time-tracking apps can do the work of keeping track of your hours so your creative flow is not interrupted. Instead, rely on any of the best time-tracking apps that are available on multiple platforms.
1. Toggl
One of the most popular apps in the time-tracking space, Toggl is a favorite for some very good reasons. Simple and intuitive, Toggl gets the job done without getting in your way. To get started, you only need to hit the "Start" button, and the timer kicks off. Compatible across multiple platforms, you can just about access Toggl wherever and whenever you need to.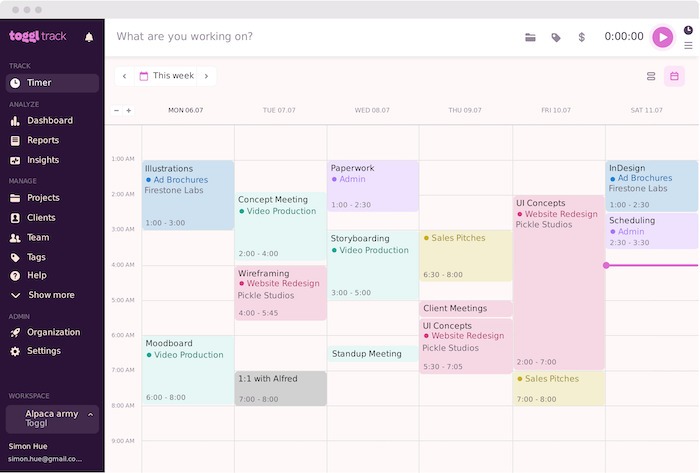 The best part of Toggl is that it takes a different approach than other time-tracking apps. Whereas other apps want you to add in all of the details about the task or time you are tracking, Toggl says, "Don't worry about it; you can do it later." Instead, allow the focus to be solely on the work, and let the app, extension or browser tab do the rest. With a free plan for basic time tracking, Toggl is a must-use for anyone who just needs the basics.
2. Hours Time Tracking
Another minimal time-tracking app, Hours, ensures a list of timers is running and can stop and start easily. Sometimes basic is exactly what you need. In that case, Hours has it in spades, but it's not completely bare bones. If you are a freelancer working with multiple clients, Hours can keep multiple timers active at one time. Switching between all of your various timers is as easy as one tap or click.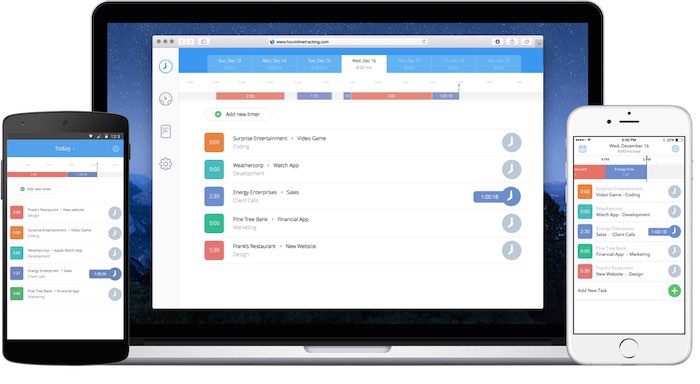 Beyond tracking your time, Hours has introduced a new invoicing feature so you can grab your hours directly from inside the platform and build them right into an invoice. Add notes from your timers as part of your invoice as a way of itemizing the work you performed. Want to see how much time you spent in a week or a month on a given project? Hours includes some basic reporting and visualizations to help you see how your time is being spent. Best of all, it's free and works on nearly any device.
3. RescueTime
Unlike more standard time tracking apps, RescueTime works in the background without requiring you to hit a start or stop button. So how does it work? RescueTime automatically tracks the time you spend online including on apps, websites or even while working on documents. There are no manual timers, and yet RescueTime provides detailed reports daily and weekly, letting you know how your week has been spent.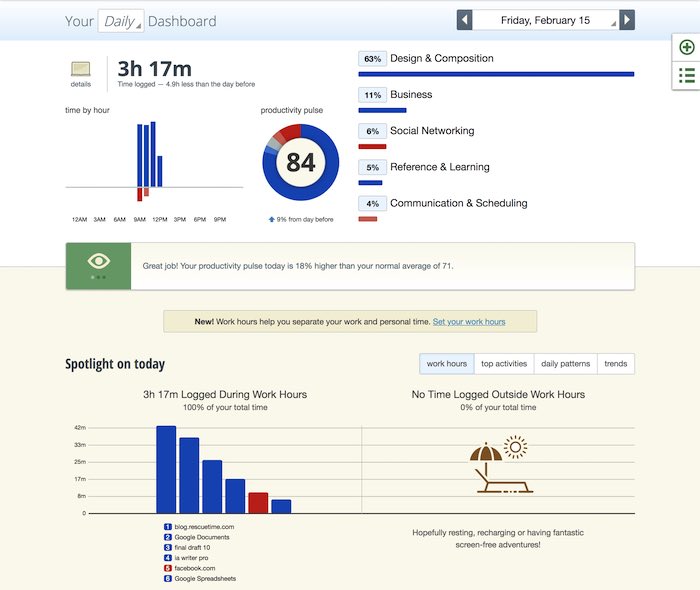 You can set smart goals to help track your progress and hopefully be more productive as a result of understanding where all of your time is spent. One of the best features of RescueTime is its offline component. The developers understand that not all work is done online. You can manually add offline tasks so all of those offline hours can be accounted for. That RescueTime can integrate with your favorite calendar app as well as Slack is all the more reason to check it out.
4. MyHours
Easy to use with all of the features you would hope for in a time tracker, MyHours is a solid option. For anyone using this application, time tracking can be entered either manually or using the start-stop timer. All of your tracking can be tagged with either an actual "tag" or by adding a description so you can take notes for later use. Any time that has been entered can then later be turned into a shareable report that you can send to a client or manager so they can see your progress and workflow.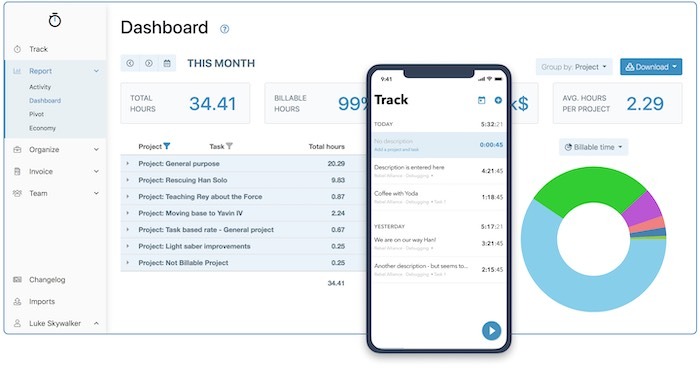 One of the most notable aspects of MyHours is the option of adding expenses to timelogs, including amount and hourly rate. It's a great way to keep on track of all expenses as well as monitoring a budget. Integrations with third-party apps like QuickBooks ensure that you can properly manage all of your accounting, and with Zapier connectivity, you have thousands of automated integrations available.
5. Clockify
Designed to be used with a team, Clockify is another smart time tracking tool that works just as well for solo professionals. One of the best reasons to look at Clockify, especially for teams, is that its free tier enables unlimited users and projects. That can be a big money-saving feature for any size team and can help integrate everyone's work and time tracking in one central location. The start and stop time works manually or with the click of a button.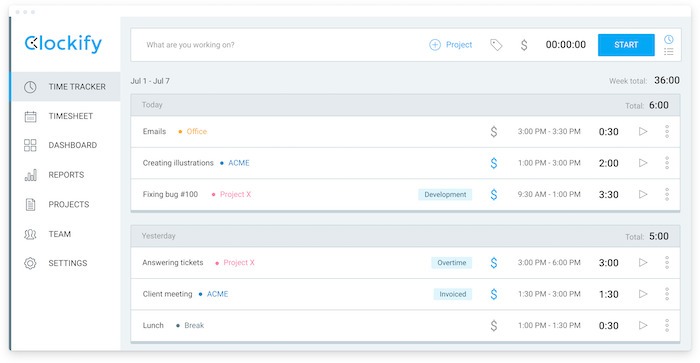 Want to set up a timesheet that a whole team can use? That feature is already built in with Clockify. Perhaps you would prefer a dashboard where you can see how the whole team is spending their time. That's available as well. Another nice feature is the ability to add custom fields to all of your time entries. By doing so, you can track expenses, location, travel, invoices, etc.
One thing is certain. There is absolutely no shortage of time-tracking apps available. In fact, it's easy to spend more time selecting an app than actually doing the tasks. That's why your selection should boil down to one of the five apps listed above. They range in price from free to a small monthly fee, work well for either teams or individuals, and are cross-platform. Stop your search right now and download one of these apps and get to work. And if you'd like to make your time even more worthwhile, look into using the Pomodoro technique.