Everyone is looking for productivity hacks that can help them be more efficient and less distracted. The Pomodoro technique is a timer-based productivity tool that can help in a big way. Using the technique is simple and essentially provides you with a method of taking large(r) tasks and breaking them down into small(er) tasks. Here are some of the best Pomodoro timers to help you out.
Best Web-Based Solution
One of the most simplified versions of the Pomodoro technique is unquestionably Marinara Timer. Offering three different solutions, Marinara Timer adds a standard Pomodoro timer with 25-minute intervals, a custom timer so you can set your own work/break period and a kitchen timer. One of the best reasons to use this web-based solution is that there is no login required.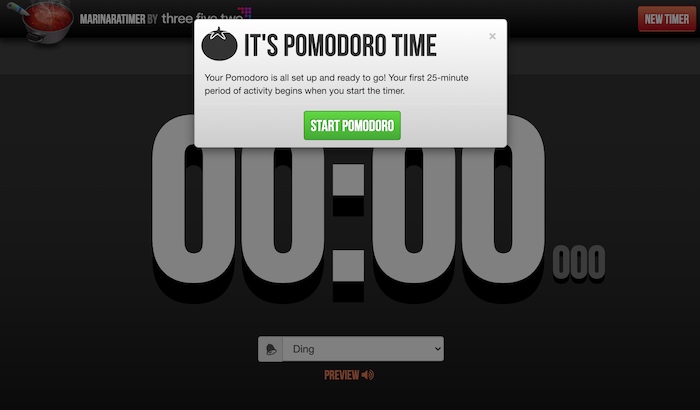 After clicking on any of the three buttons, watch the timer count down. What it lacks in a desktop or mobile app, it more than makes up for with basic simplicity. Are there any downsides? In the case of the custom timer, there is no login to save your custom setup, so you need to redo it each time you load the site. If that is not a deal-breaker, you would be hard-pressed to find any Pomodoro solution with a smaller learning curve.
Best for iPhone
A perennial favorite for iPhone users, Focus Keeper is a standout option for use on iOS. With a beautiful interface, learning Pomodoro is not only enjoyable but easy on the eyes. Upon opening the app, you are immediately brought to a horizontal timer that can be adjusted with a swipe of your finger. Manually drag the timer bar back and forth to set the exact period of time you want to work before taking a break. Click the Start button and the timer starts ticking away.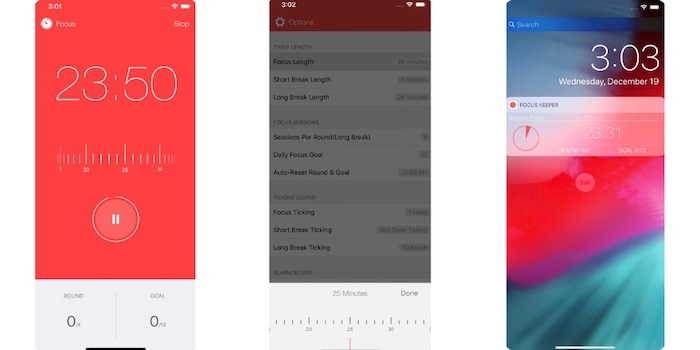 The timer will also keep track of what round you are in as well as any goals you may have for this Pomodoro session. If you need to leave the app, it's not a problem, as the app badge notification will let you know what minute you are currently on. When you finish a session, the app tells you to start your break and automatically sets a five-minute timer. If you want even more features, like customizable alert sounds or different background colors, you can go "Pro" with a one-time payment of $1.99.
Best for Android
Part Pomodoro, part to-do list, Focus To-Do is the best of both worlds. When you first open the app, you start by selecting the type of task(s) you want to accomplish. After that, you will set a timer for your first Pomodoro round of 25-minutes and get to work. Fortunately, you are not tied to a 25-minute timeframe and can customize your work sessions for a more comfortable workflow. There is support for both long and short breaks and you can even skip a break if you are feeling up to it.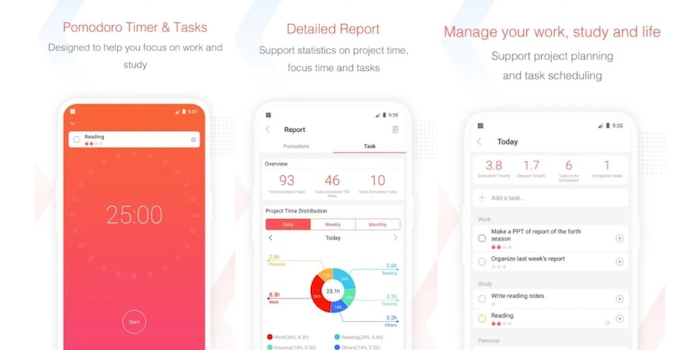 There are plenty of themes and sounds to customize your app experience and even a premium subscription. Subscribe to the app, and you will find reminders, repeating tasks, and detailed statistics on your workflow, as well as additional customization options. With apps for Android, iOS, Windows and Mac, Focus To-Do is definitely a one-size-fits-all solution.
Best for Mac
Be Focused is the best Pomodoro timer for Mac. To get started, macOS users only need to open the app, add their to-do list of tasks for the day and start the timer. Each task can be separated by short breaks, ensuring that you do not take on too much without a chance to refresh. As is the case with most Pomodoro apps, you have an opportunity to change the break intervals to be longer or shorter than five minutes.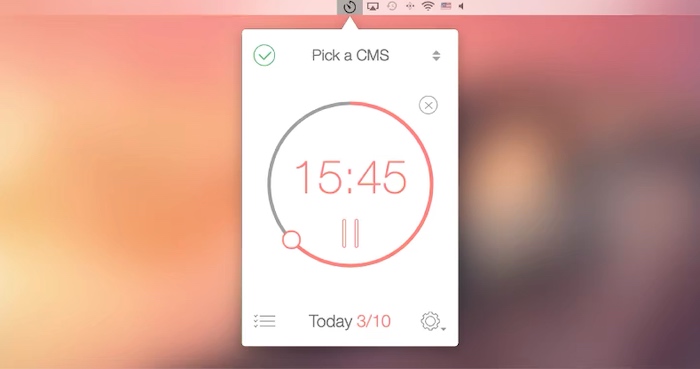 You can add additional intervals before taking a longer break or tweak the number of intervals per day in general. What makes Be Focused so appealing? All of the settings are front and center. It requires minimal menu use and no extraneous features or complicated options. Just type, click and go. Last but not least is the option to get customized reports. Each report will let you see how well you are tracking against your goals.
Best for Windows
Downloadable at no cost, Focus 10 is as easy as setting up your timers and hitting Start. The default setting is the standard Pomodoro schedule of 25 minutes followed by a five-minute break and a longer break at the end of four sessions. There are a few options for different alarm sounds. At its most complex, Focus 10 adds a ticking clock sound that plays in the background.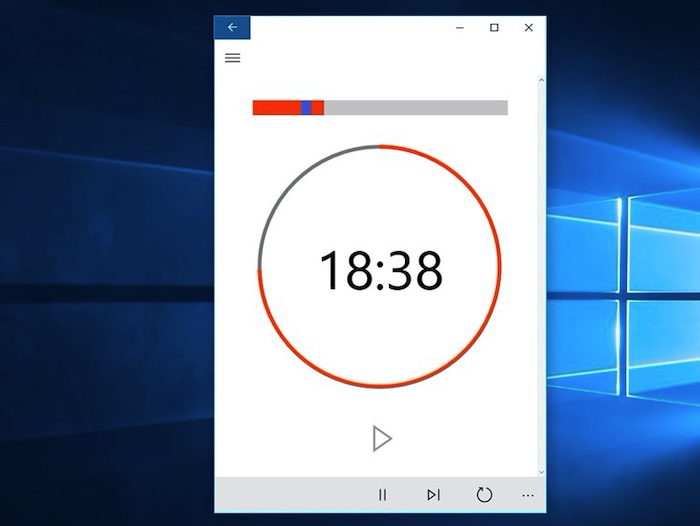 If that is the kind of motivation you need to keep working, Focus 10 has it. Just know that's about all the app offers. Are you someone who wants to see reports on all of your past behavior? Focus 10 likely is not the app for you. The Pomodoro technique is all about focus and, in that context, Focus 10 is a big winner.
Conclusion
When used properly, the Pomodoro technique can be a major lifesaver for anyone struggling to manage time effectively. Still, be prepared for a small learning curve, as it's an entirely new way of working. Once you get into the flow, you will look back and wonder how you got through a workday without it. Is the technique for everyone? Not at all. However, if you are the type of person who jumps from task to task, this structure may become invaluable. If all else fails, listen to music.