What sounds like more fun to you? You can make a list and tell yourself to follow it. Or, you can turn your work, tasks, goals, and habits into a game. Naturally, games sound better and less stressful. That's why apps that use gamification are so popular for helping you stay on track. While many apps use this technique, we take a look at six of the best.
1. Forest
Forest (Android, iOS) distinguishes itself from the other apps on this list by focusing on that simplest of goals: not letting yourself get distracted. Quite simply, you plant seeds that slowly grow into trees based on how well you stay disciplined and abstain from getting distracted by your phone.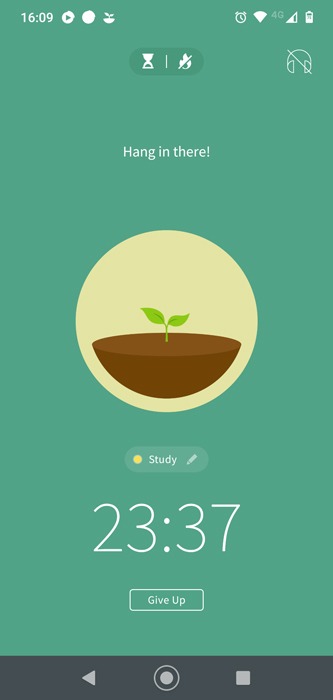 Forest pretty much takes over your phone, growing a nicely illustrated tree while you stay away from your phone. You set timers that you're comfortable with – whether that's 20 minutes or three hours – and within that time, if you use your phone, you'll kill your poor tree.
As an extra incentive for your efforts, if you gather enough in-game coins, you can spend them to plant a real tree in Africa through the app developer. It's a simple yet great demonstration of gamification for the greater good.
There's an extension for Chrome and Edge, too.
2. MindSnacks
Many of the apps on this list focus on task management, productivity and organization, but the beauty of gamification is that you can really apply it to anything. One of those things is language-learning, and while there are various apps – like DuoLingo – which dabble in making it more gamified, MindSnacks really is the master of it.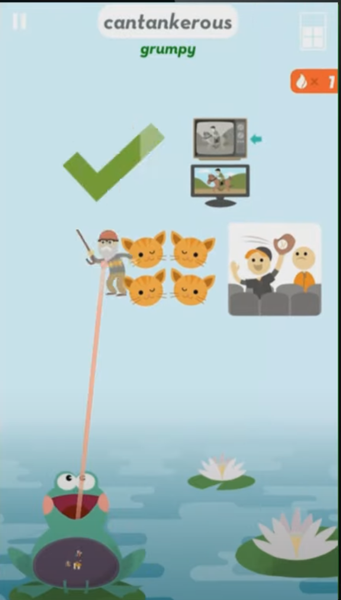 Fronted by various cutesy animated animals, MindSnacks sets a nice pace by giving you timed challenges that involve, say, a penguin sliding along ice or a frog slurping up the words you tap. It's designed to appeal to both children and adults alike, and it achieves that through charming presentation, pleasant background music, the works!
Beyond the addictive gamey-ness, it's packed with pretty deep performance data, letting you track your progress and incentivize learning every day to keep up those sweet, sweet streaks. The major caveat here is that free users are confined to five minutes a day, but in its own way, that's a motivation to make the most of those five minutes. There's a whole lot more locked behind the Premium version if you're willing to pay around $70 a year.
3. Habitica
Habitica is a free iOS, Android, and web app to help you increase productivity and build new habits. However, it doesn't look like your typical habit tracker or to-do list. It's one of the most popular apps that use gamification to make your daily routine seem much more fun.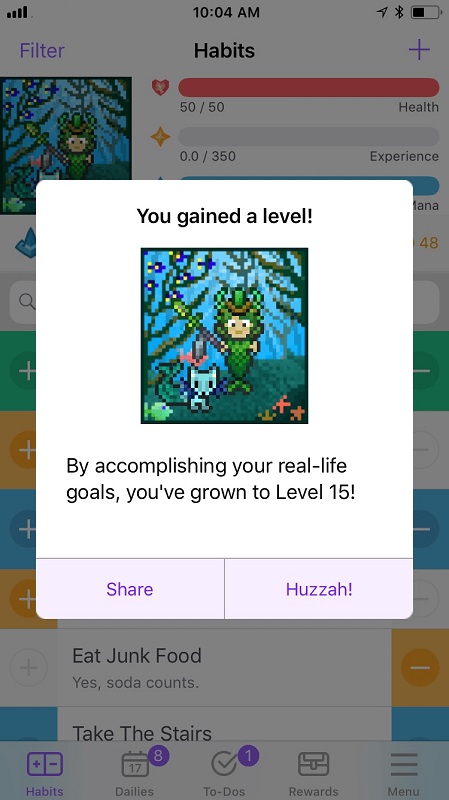 Everything syncs once you create an account. After it syncs, simply add what you want to track. Habitica helps you track habits, goals, and even your to-do list. One common complaint is it's difficult to track bigger long-term goals. However, if you break these up into smaller steps and goals, Habitica can be used for tracking the bigger goals in your life.
Now for the fun part. You create a personalized avatar to represent you as you progress through the game. As you check off your tasks, you level up and earn coins. This lets you unlock more features, such as skills, armor, quests, and pets.
There's even a social element. Play along with friends to hold each other accountable. You'll even get to team up to battle monsters. You can also use your coins to "buy" rewards, such as watching a movie or getting a special award. The game motivates you by rewarding you for completing tasks but taking things away when you don't.
If you want to know more about this great app, then read our Habitica review for all the details.
4. EpicWin
EpicWin was originally only available for iOS, but it became so popular that it's finally available for Android users, too. That's a great thing, so everyone has a chance to mix productivity and a fun RPG. From building habits to getting through boring daily chores, things are easier when the mundane becomes battling virtual monsters, aka your to-do list.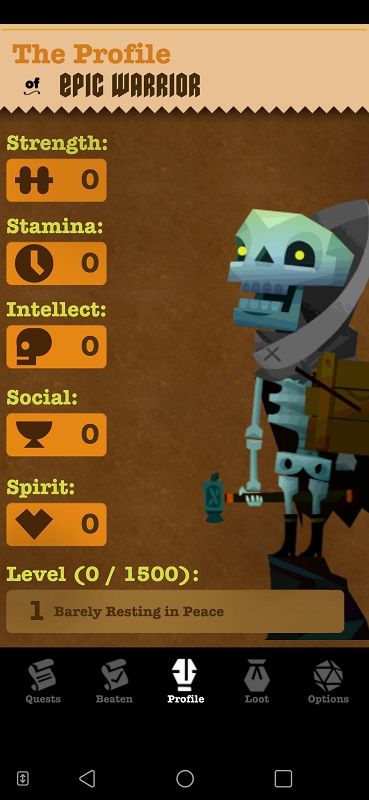 Make your list of things to accomplish and earn XP as you check them off. That's much more satisfying than a checkmark on a piece of paper. Use the XP to level up your chosen avatar. You'll need to carefully choose which attributes to focus on to strengthen your character. The graphics are a little more detailed and engaging than most other similar apps.
Move forward on your life's quest as you check off items. As you reach new areas of the game map, you unlock new items, including rare ones. Share your victories on social media and celebrate with your friends.
5. Tasktopia
Tasktopia, also known as Bounty Tasker, offers a clean interface for managing your daily tasks and goals without distractions. You'll stay motivated as you check things off to earn new characters, battle monsters, and get better equipment. It's only available for iOS, though the website states an Android version is coming soon.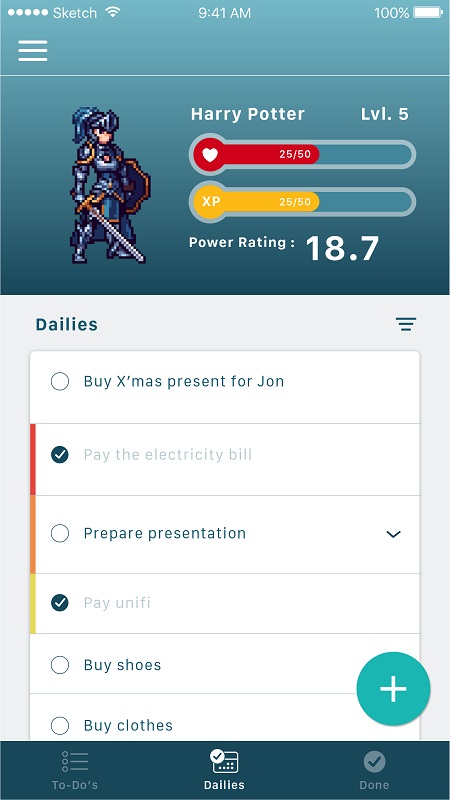 A unique feature is tags to help you better organize your tasks. If you're tracking multiple tasks, goals, or habits, it's much easier to see how things are going in different areas by viewing your list by tags. Reminders also help you remember everything on your list.
Much like other apps that use gamification, you unlock pixel-art avatars to level up. There are more avatars to choose from than EpicWin, but you have to unlock them as you go. Much like in real life, the better you tackle your list, the better you perform in the game.
If you're looking for an Android-only alternative, Kingelf Habit RPG works similarly. It also adds in a few mini-games to play as a reward.
6. Do It Now
Do It Now is an Android-only gamification app. This one works a little differently than the rest. You don't have pixel-art graphics and monsters to battle. It still adds game elements to your daily routine, though.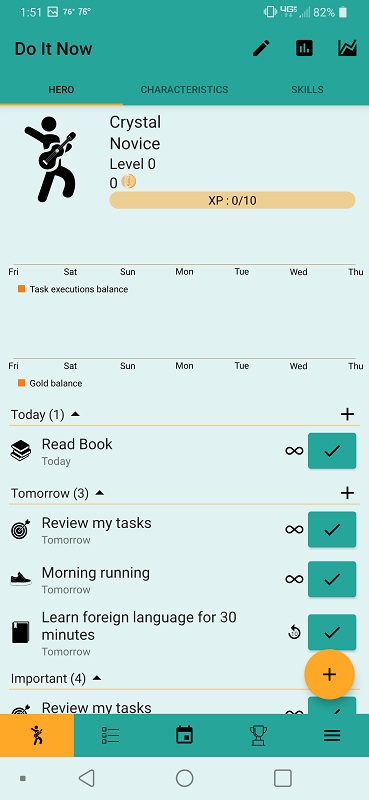 Create a task list with varying frequencies. You can even check out your month at a glance to see which tasks you need to do on which days. This makes it a great planner app as well. In fact, you can use it as a daily, weekly, and monthly planner.
Create a virtual hero that becomes the digital embodiment of yourself. Every task you create earns you custom skills and characteristics. For instance, reading daily could earn you wisdom points. As you check things off your list, you can XP and level up over time. Not only are there reminders, but you can add up to five reminders per task to hold yourself more accountable.
Instead of fighting monsters, you level yourself up to earn better rewards. Rewards are completely custom. For instance, if you want to watch TV or go out to a special restaurant, you must earn coins through your daily tasks to "buy" that reward. Sure, you could cheat, but that's the point of the game – to earn through completing tasks successfully. If you want more info, check out our Do It Now review. We love it!
Try these apps that use gamification and make the boring to-do list a lot more exciting and motivating.
Images credit: Habitica Press Kit, Tasktopia Press Kit