There may not be a bigger annoyance when you're working than being interrupted by spam phone calls. Whether you're on a landline or your mobile phone, it seems they are getting worse. There are a few ways to prevent the calls: blocking them with your service provider, through apps, and in the U.S., we have something called the "Do Not Call List." Read on to discover how to block spam phone calls you receive so that your workday will not be interrupted as much.
FCC Suggestions for Reducing Spam Phone Calls
It's important to realize first and foremost that you won't be able to completely end spam phone calls for the simple reason that only known calls and callers can be blocked. A telemarketer or spammer has to be identified to be blocked. However, you can greatly reduce the number of these calls that you receive to stop getting the increasing interruptions.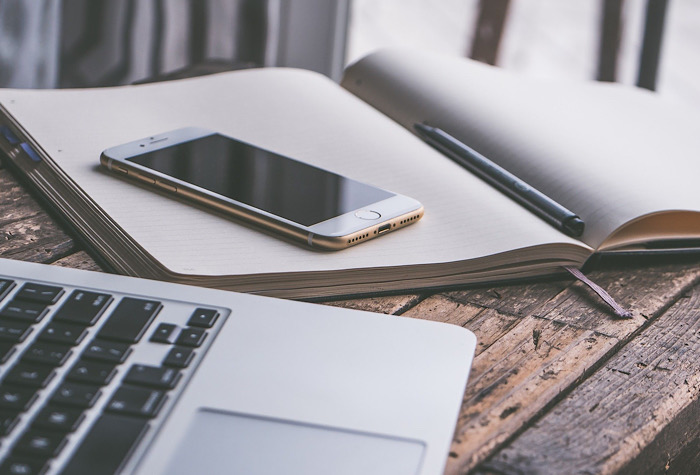 The FCC (Federal Communications Commission in the United States) has published a list of suggestions for reducing unwanted robocalls and texts. Many of them are common sense, but there are a few good suggestions on there, making it worth the read. Some of these that will help end the constant interruptions in your workday are detailed below.
Do Not Call List
If you live in the United States, you can register your home or mobile phone with the "Do Not Call List." It will greatly reduce the number of unwanted phone call interruptions. Getting on the list is just a matter of visiting the website and registering your number. It's a completely free service.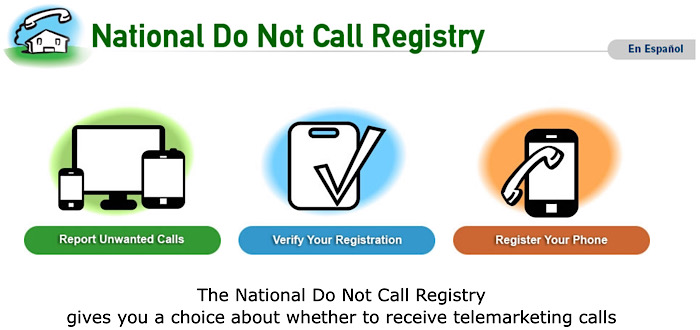 Legitimate telemarketers consult this list and do not call the numbers that have been registered. However, you will still receive unwanted calls from charities, political groups, debt collectors, surveys, etc.
After 31 days of registering your number, if you still receive unwanted calls, you can report the number to the FTC (Federal Trade Commission).
I added both my mobile number and home phone number to this list, and it did greatly reduce the number of calls that I receive. There were many days where I just felt like I wasn't going to get anything done with calls offering lawn care service, duct cleaning, carpet cleaning, etc. Particularly annoying were the calls offering to fix my Windows computer. I don't own a Windows computer. Now, I no longer receive those calls.
Phone Company Blocking Tools
This was a spam call that I received in the process of writing this article. The "Spam Risk" warning is provided by my phone service provider, AT&T.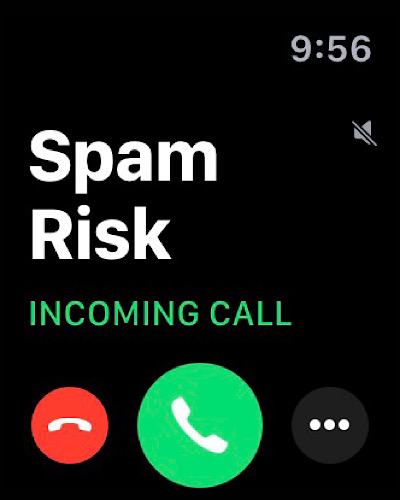 When I get this message, I simply click the red button, and it denies the call.
Call blocking is used by phone companies to help prevent illegal and unwanted calls. An FCC report discovered that when phone service providers partner with third-party analytics companies, they're able to block billions of calls every year.
Some phone companies will block calls connected to suspicious calling patterns. That's how I received the "Spam Risk" notification. Providers also allow customers to block additional unwanted calls by enrolling them in an additional service or installing an app that may or may not be at an additional cost.
Not all providers send "Spam Risk" notifications. Some providers send a blocked call directly to your voicemail, or sometimes they may just block it and not notify you at all, erasing the interruptions in your workday even further.
If you are concerned that you will be missing wanted calls, you can opt out of this additional service. Some companies allow you to determine which types of calls you want blocked.
It's worth a call to your phone service provider or a quick visit to its website to see what's available to you. You could be ending those constant interruptions as soon as tomorrow.
Third-Party Analytics Apps
There are a few third-party apps you can add that can also help end these unwanted calls on your mobile phone.
Hiya
This is an app (iOS, Android) I used and found it did block quite a few calls. I find now that my phone provider blocks enough of my calls that I no longer need it, however.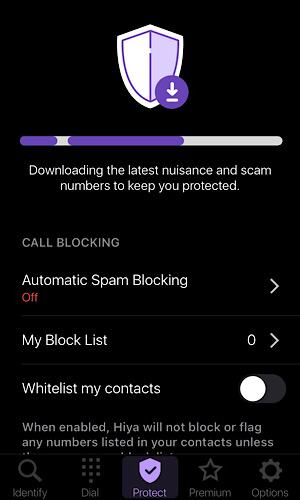 After installing the app, you'll get free spam alerts and will be able to tell the app to block the number in the future. It shows you the true caller ID, allowing you to identify and block robocalls, telemarketers, debt collectors, and fraud calls. Scam and fraud calls are blocked automatically without your input.
Engage Calling
This app (iOS, Android) will provide information about incoming business calls. Once you have installed it, it requires no action on your part. When a verified, participating organization calls you, you'll receive a notification with the business's logo, the name, and the reason they are calling. It's not blocking anything, only providing information on the legitimate calls to allow you to further question other calls.
Nomorobo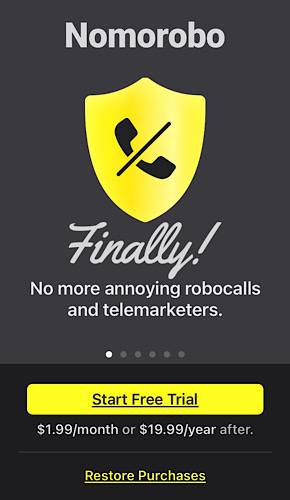 With the very clever name of Nomorobo, this app (iOS, Android) blocks robocalls, telemarketers, spam texts, and phone scammers for you. However, unlike Hiya, it's not free. This choice is left up to you to block the calls or identify them. After a 14-day trial, it will cost you $1.99 a month. This may be worth it to you, though, to stop the interruptions in your workday.
YouMail
This app (iOS, Android) will block spam calls and robocalls and also provide you with visual voicemail. Any spammer or robo-caller who dials your number will hear, "Number disconnected," which removes you from their calling lists. It also blocks non-robocall numbers. It promises to do it more quickly than other apps.
Wireless Device Solutions
Mobile phone manufacturers also provide services to allow you to prevent spam phone calls. Of course, the happier you are with your phone experience, the longer you will spend using your phone instead of turning it off during your workday to get stuff done.
Apple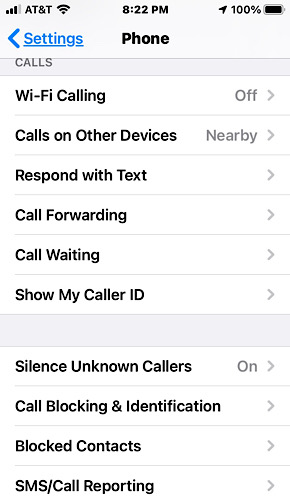 Starting with iOS 13, you can turn on the "Silence Unknown Callers" option to not get calls from anyone you don't know. It blocks numbers that aren't in your contacts list and that you've never been in contact with. This will definitely cut down on your calls and leave your day wide open. However, you may be blocking an urgent phone call from a family member who is using someone else's phone in an emergency
Google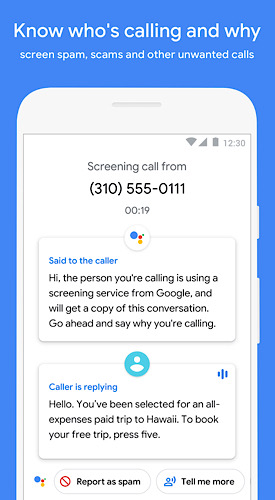 Google offers the "Call Screen" service. You can screen calls automatically in English in the United States on Pixel phones. You can also screen calls manually in the U.S. and Canada on all Pixel phones and certain other Android phones. The service does not work with third-party apps, so it's recommended you turn those off. It also doesn't work if you're connected to Bluetooth or using headphones. It screens all calls that aren't from a number in your contacts and will use Google's spam database to identify the calls.
Samsung
The Smart Call option on Samsung phones uses the Hiya service. See above for how that service works.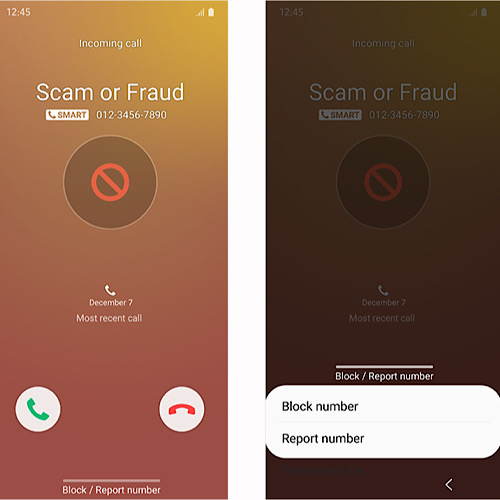 The most important thing to remember when you want to stop unwanted spam phone calls to get more done is that you won't be able to stop all numbers from getting through. However, if you want to limit the interruptions to increase your productivity, any one of these options, or a combination of a few of them, will leave you more time to focus on your work.
Once you eliminate the unwanted calls, further increase your productivity by finding your most productive times of the day.
Image Credit: Samsung, Google Play, and public domain