In our busy lives, we don't always get the time to curl up with a good book. But that doesn't mean we have to go without reading the newest blockbuster. There are many books that are available in audiobook form. Don't think you have to pay for them through Audible, either. Read on to find out how to listen to free audiobooks on most any device.
The Books You Want to Listen To
Let's stipulate first what books are being discussed here. This is not about the public domain books that are available in many, many places. Being public domain, they can be hosted by any website and downloaded freely. You won't have trouble finding those.
The free audiobooks being discussed here are the blockbusters you want to read. This means the ones that end up on the New York Times bestseller list. The ones everyone is talking about at the watercooler. The books that have been turned into Oscar-winning movies. Books that famous authors are peddling on TV. There are a few ways to get those for free, and just like print books, it requires you to get one thing: a library card.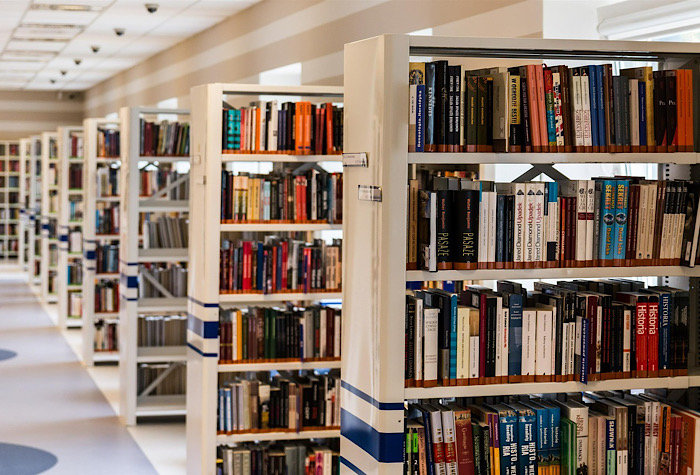 Don't forget about your library just because it's so easy to get digital content that doesn't involve your local library. You can use your library card to get free audiobooks and save yourself the expensive price you would have to pay to Audible or other online services.
Library Content
If you don't have a current library card, contact your local library and get one. Then access your library online. Your library may have some audiobook content there on its website. If not, it will most likely have links to other sites or apps where you can get free audiobooks.
You can see in the below image all the content that is available online in my local library: ebooks, movies, TV shows, research, kids' content, music, and audiobooks. All of that is available for free with just a library card.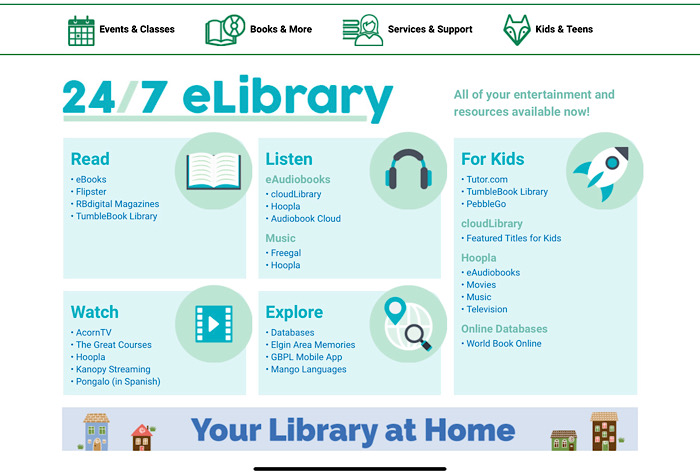 Looking at the options for audiobooks, you can see CloudLibrary, Hoopla, and Audiobook Cloud. All three of these are websites I can visit on a computer or mobile device, and the first two have mobile apps as well. Those two also have great options. Audiobook Cloud didn't seem to have interesting, current options.
But I don't have to go outside of the library's website for audiobooks to borrow for free. I can search the content there at the library as well. Find your local library's website and see what's available to you for free.
Most Popular Audiobook Websites and Apps
There are multiple websites that work with local libraries to offer this free content. You may find options at your local library that aren't mentioned here. But there are also two very popular websites/apps that many libraries connect to. And they have popular, current books.
OverDrive/Libby
The most popular service is OverDrive/Libby. OverDrive is connected to tens of thousands of libraries, and you can connect to it to borrow ebooks and audiobooks. Libby is the mobile app version of OverDrive that is available on iOS and Android.
This service has plenty of big-name audiobooks. The problem I found while browsing is that many of them have a long waitlist. The books are easy to "borrow," as long as you have provided your library card number, PIN, and local library name. My local library isn't included in the list, however.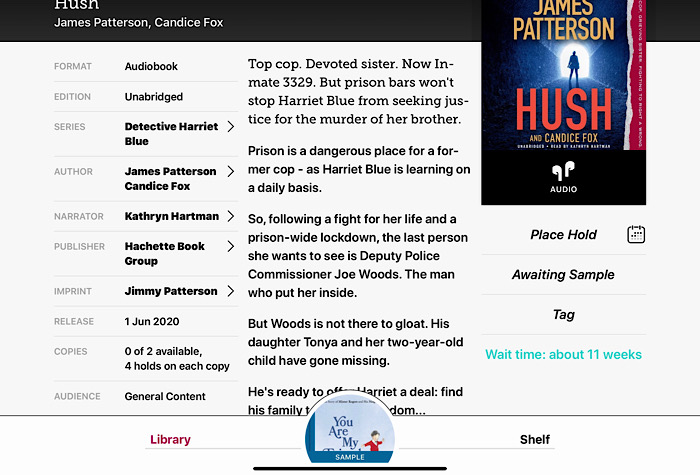 However, once you are allowed to listen to an audiobook (I was able to listen to samples despite not having a library card with a library in the service), it's a very beautiful experience.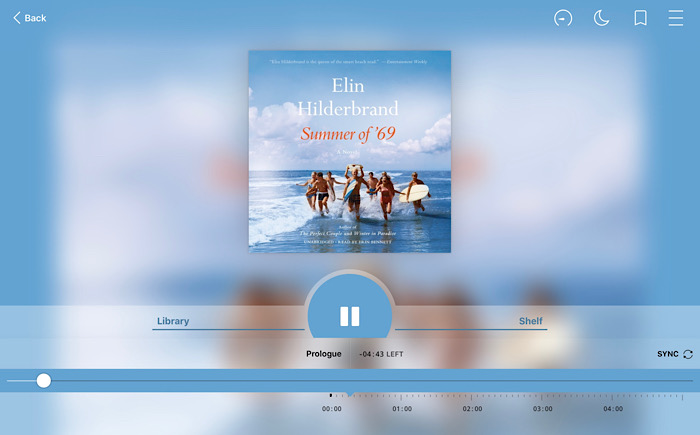 Hoopla
The other popular service is Hoopla. It's available on a website as well as a mobile app that is available on iOS and Android. Additionally, it's available as an Amazon skill, and on Apple TV, Android TV, Roku, Fire TV, and Chromecast. Along with audiobooks, you can also borrow music, movies, TV shows, ebooks, and comic books.
The drawback to Hoopla is it doesn't have as many of those big-name titles. Instead of having long waitlists, the books simply aren't offered. Either way, you're not getting that audiobook. You're either waiting several weeks or it's just not showing up as available.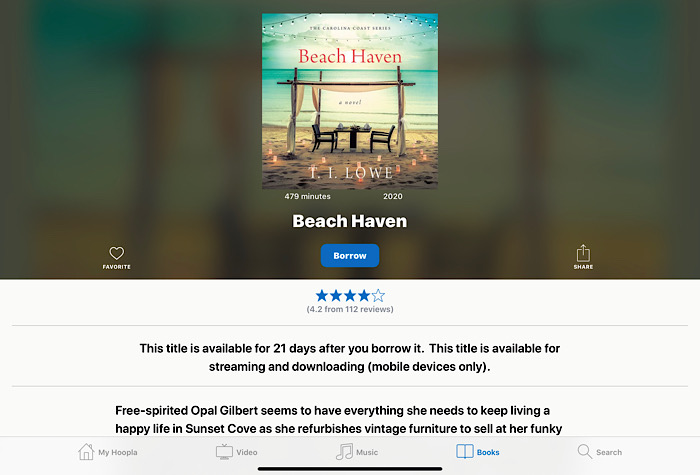 Hoopla's app does not have the beautiful layout of Libby. But you're not downloading it to look at it – you're downloading it to listen. The good thing about borrowing digital content is, generally, you don't need to worry about returning it. When your time's up, the library takes the book back. But you can also return it on your own when you're done, with the advantage of that being you are only allowed to borrow so many at a time.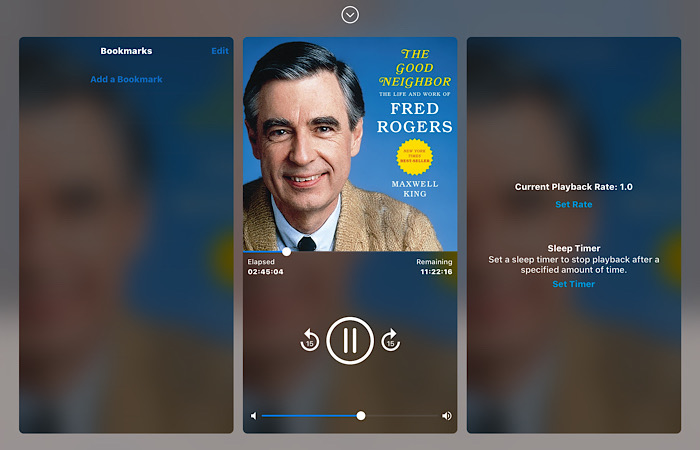 Streaming to Other Devices
You've learned how to get free audiobooks on your computer and mobile, but what about your other devices? We've already covered that Hoopla is available on nearly any device you can imagine. But Libby isn't, and neither is my local library and probably many others.
It's easy on Apple devices, as you can use AirPlay 2 to send your audiobook to your HomePod or Apple TV. There is no way to get it on your Apple Watch. You're locked in to listening to audiobook content through iTunes, which many times isn't free. You also can't use AirPlay with an Amazon Alexa device.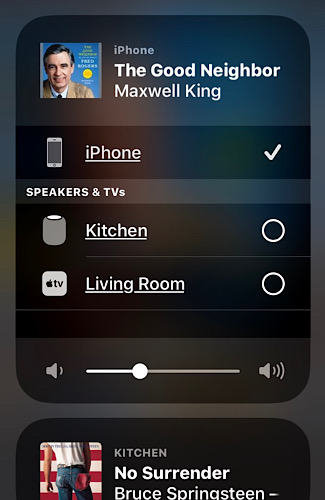 If you're on Android, Windows, or Linux, there are third-party audiobooks apps you can install to stream your content to your other devices.
Free audiobooks are available on every device. Every book you want to listen to is available. But every website or app is not available to every device, and every book isn't available on every service and may not be available when you want it. But there is still much content you can listen to without having to be confined to public domain. All you need is a library card, and you can listen to free books that you have been waiting to read.