Trying to master the fine art of being more productive isn't always easy. That's why guided courses are so helpful. If you don't want to shell out hundreds of dollars on classes, take some of the many free productivity courses online to help improve yourself. Since they're free, you have nothing to lose by trying them out to learn things like time management and building better habits.
Skillshare Free Productivity Courses
I was going to narrow down some free great courses here, but honestly, there are so many I decided to just include the entire free productivity section in this list. Skillshare is a well-known education platform for boosting your skills. While some courses aren't free, many are.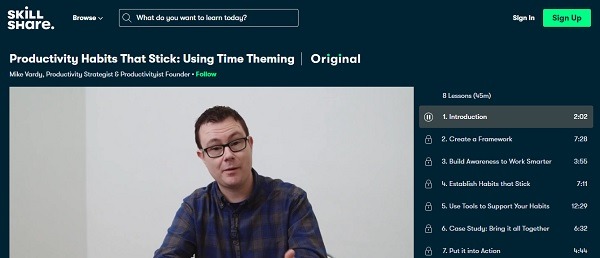 The free section of online productivity classes includes courses such as:
You can find more free courses on a variety subjects, not just productivity. Alternatively, you can subscribe to access all courses for a single monthly fee.
Work Smarter, Not Harder: Time Management for Personal & Professional Productivity
The University of California at Irvine offers the free course, Work Smarter, Not Harder: Time Management for Personal & Professional Productivity. It's available via a free membership at Coursera.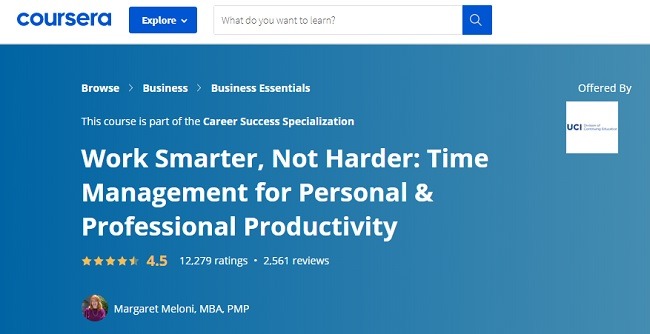 It takes approximately ten hours to complete, and you receive a certification of completion when you're done. Throughout the course, you'll learn more effective goal planning and how to improve time management, better manage your resources, and delegate and say "no" to free up time.
The Science of Everyday Thinking
Changing the way you think helps to boost your productivity. The Science of Everyday Thinking, offered through the University of Queensland in Australia via edX, helps you understand why your mind works the way it does. It then guides you through making better decisions and improving your critical thinking. Both of these help you choose more productive paths.

While many free productivity courses also offer a free certificate, this one doesn't. The course itself is free, but the certificate, while not required, is $99.
The Science of Happiness
Happiness has been proven to help boost productivity, but it always seems so elusive. That's why the University of California at Berkeley created The Science of Happiness. It's free through edX, though you can purchase an official certificate of completion for $169.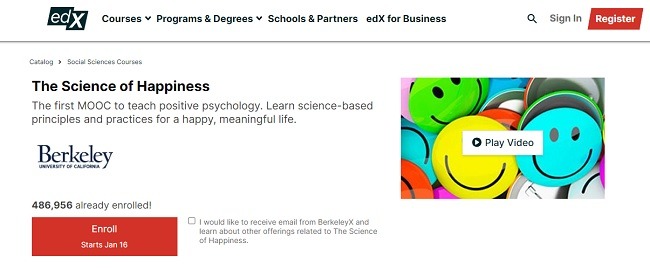 Learn what happiness is and isn't, boosting your own happiness, and how to build better mental habits. By taking better care of yourself and your own happiness, you feel better, stay focused longer, and get more accomplished.
Ultimate Time Management – Unique Time Management Strategies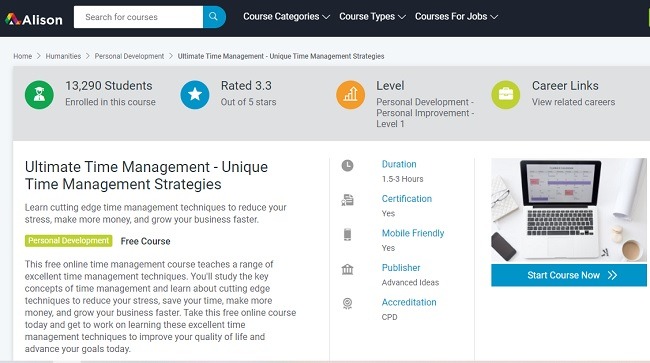 Along with reading time management books, the free Alison course, Ultimate Time Management – Unique Time Management Strategies, can help you get more out of your day. The course focuses on a variety of strategies to help do more with your time and reduce your stress. It's designed to help you achieve your goals faster, especially if you're starting a business.
How to Use SMART Goals: Achieve More in Less Time
The short course How to Use SMART Goals: Achieve More in Less Time helps you learn how to better structure your goals to accomplish them. As a result, you'll be better able to stick with your goals, accomplishing far more.

If you're having trouble setting and sticking to goals, this is one of the best free productivity courses to take. It gives you the foundation to master goal setting and boost your productivity.
TED Talks
While they're not free productivity courses in the strictest sense, TED Talks give you valuable insight into productivity topics from experts. Plus, if you're busy, you can listen to these while you drive to the grocery store or when you're exercising.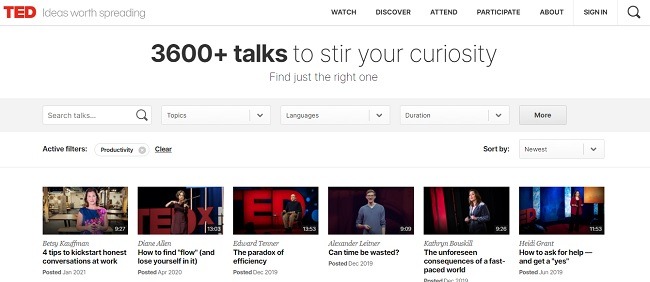 There are numerous TED Talks devoted to productivity, including things like time management, procrastination, and finding a better work/life balance.
Spending a little time on free productivity courses can drastically change your normal workday. Plus, they'll help you do more in less time, leading to a better balance in your life.