How many apps do you use to manage your daily schedule? I typically have calendar, to-do list, and notes apps to jump between. When I heard that 24me combines all this, I had to try it out. Surely there has to be a catch, right? During my 24me review, I found that everything really can be combined into one highly convenient app.
24me Overview
24me is designed to bring together your calendar or calendars, notes, tasks, email tasks, and to-do list into a single app. It syncs with many popular calendar apps you may already use, such as:
Google Calendar
Microsoft Outlook
Apple iCal
Yahoo! Calendar
Microsoft Exchange
And there are others, too. So even if you use a different calendar for your work and personal lives, you can combine them into 24me. In fact, the first thing the app wanted to do when I started setting it up was sync with my device's built-in calendar.
The app's available for both iOS and Android. While many features are free, there are some nice premium features available for a monthly or yearly fee.
Of course, this isn't just your standard calendar app. 24me has a wide variety of features, including:
Colored labels for better organization
Tasks (to-do lists)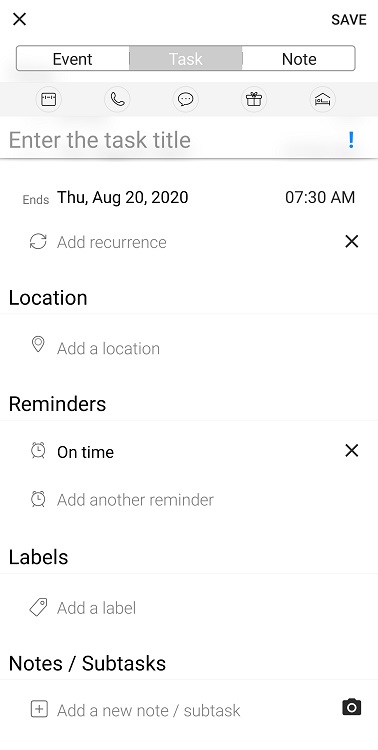 Highly customizable notes – add videos, images, and colorful text
GPS integration
Voice assistant compatible, including with Apple Watch
Conference calling
Built-in gift store – buy gifts and gift cards from 24me when you get a birthday or occasion reminder
Helpful alerts – nag alerts are great so you don't just swipe and forget, and weather alerts eliminate frustrating weather surprises as you're leaving the house or work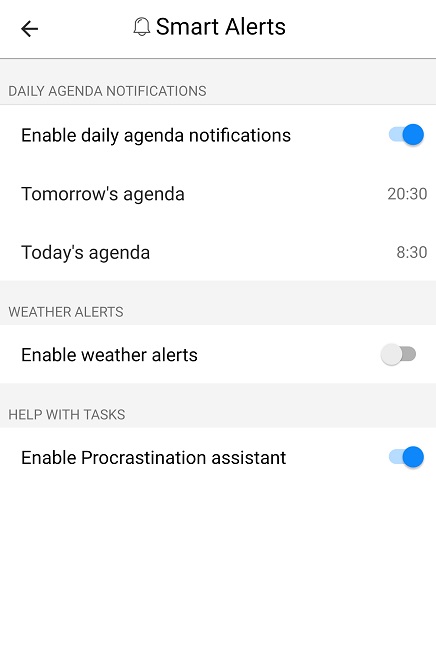 You can see the full list of features at 24me.
Getting Set Up
Getting set up wasn't too difficult. I do highly recommend checking out the user guide first. I jumped right in but checked out the guide later for syncing more than just my default calendar. There are also tutorials in the menu. I wanted to sync Outlook as well versus just Google. For my 24me review, I used the Android version of the app. If you use iOS, it'll sync with Apple iCal by default.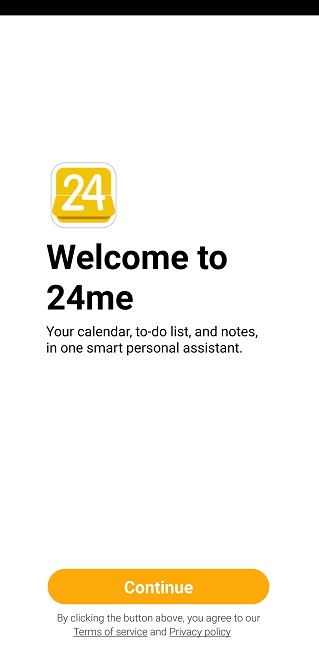 The app also asks for your location, but this isn't required. It is useful for weather updates and if you need directions to a meeting on your calendar. If you have an address on your calendar, you can view a street view map using your default navigation app.
Importing my information didn't take long at all. Plus, you can add items directly to 24me. I actually found myself using 24me versus Google for personal items. However, I do still keep track of work-related items in Outlook for some projects.
After about five minutes, I was set up and ready to start using the app. Also, you don't have to create an account immediately. I personally like this so you can try it before you create yet another login to have to remember. But creating an account does allow you to back up and sync everything between devices.
Organizing Your Life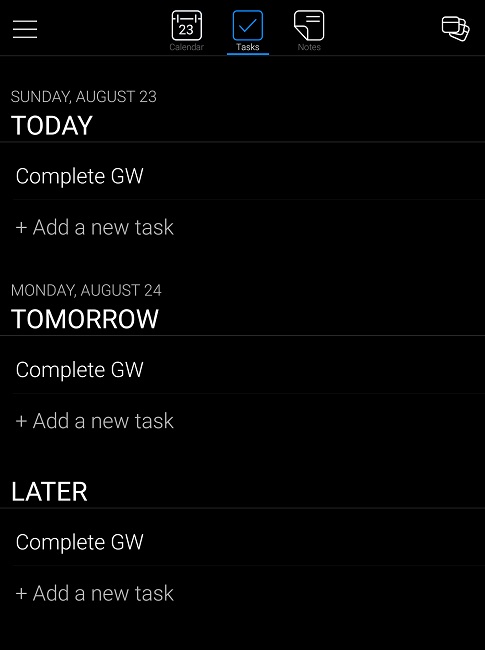 A calendar is great, especially when it pulls in details from other calendars into a single app. But I want and need much more than just another calendar. Many people consider this to be a great app for the GTD method. This comes from the book Getting Things Done: The Art of Stress-Free Productivity by David Allen. It's a method of organizing everything you need to take care of in one place.
In keeping with that, at the top of your calendar you have tasks and notes. The great thing is you can actually add individual notes to tasks if you need to add more details. All your tasks and notes show up as items on your calendar, or you can check them out separately in their own tabs.
I loved the ability to customize the text in my notes and even add pictures. This was great for keeping track of ideas as I found them.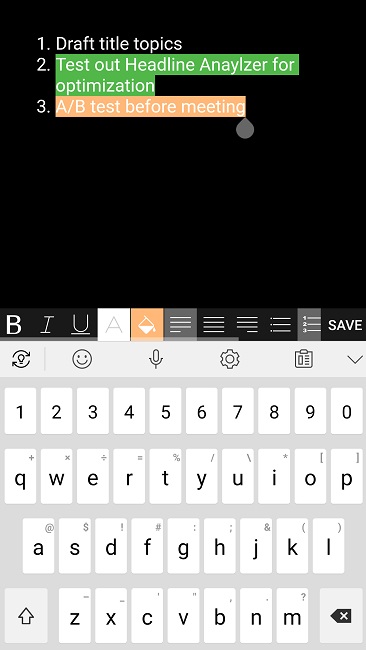 Of course, tasks are perfect for to-do lists and projects. Set reminders and even recurring tasks. I did have some issues with the recurring part, but at the time of writing, that seemed to be a common issue with the Android version. The developer did reply to many of the reviews saying an update was coming soon to fix that and add new features.
Free or Premium?
So, the big question: Should you go free or premium? During my 24me review, I found you can do most of what you need to with the free version. This is actually kind of surprising to me. The premium version does add some useful features, though, such as: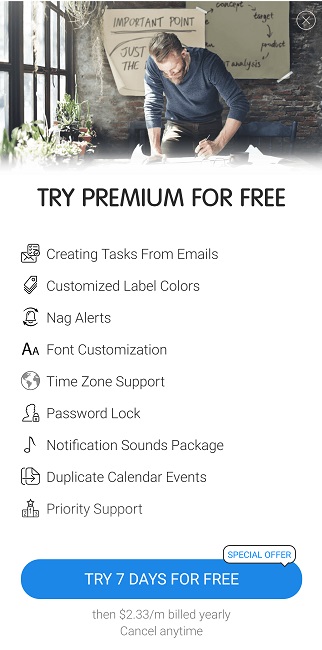 Creating tasks from emails (I usually do this from Outlook, but it's worth the premium if you need to do this)
Duplicate calendar events
Password protection
Priority support
Special notification sounds
Nag alerts (my favorite)
Customized colored labels
Font customization
However, you can still sync your calendar, add notes, and add tasks in the free version. The premium version costs $5.99/month or $35.99/year for iOS. The Android version is $4.49/month or $27.96/year. Both versions do offer a lifetime or forever license as well.
Final Thoughts
Rating: (4.5 / 5)
Personally, I really enjoyed trying the app out during my 24me review. It was nice to combine everything versus using the four apps I'm used to. While I liked some of the premium features, I am happy sticking with the free version, as it keeps everything I need fully organized. The only reason I'm not giving it 5 stars is the calendar can quickly get crowded and hard to view if you're not using color-coded labels, especially on phones. On tablets, it's great.
Find out more about 24me and give it a try yourself today.
Image credit : 24me Press